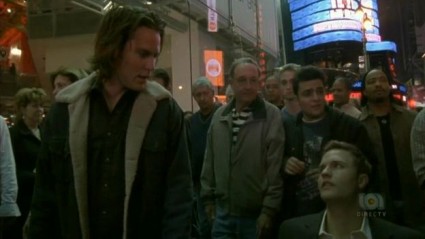 Sebastian's back Guest-clacking about Friday Night Lights again, after his commentary on Life last week.
You didn't have to be a mindreader to foresee Jason Street's possible patch in the near future. In last week's episode, there was a scene where he met some former player of the Dillon Panthers who made it to the NFL with his new agent he just signed with, who gave Six his card and told him that if he should ever get to New York, he should pay him a visit. The title of today's episode, "New York, New York," said it all. And just like in Mexico before, Jason could count on his childhood friend Riggins to come with him and help him over possible speedbumps. The outcome was to be expected.
I finally realized that Friday Night Lights is nothing but one big feel-good movie. No matter what happens, any resistance, any obstacle that is thrown in the way of our beloved characters are overcome — this way or the other. True hardships aren't part of this show, no matter how you look at it. While I wasn't particularly happy with that realization last week, I'm kind of OK with it now.
Sure, at the end of the episode, all the reasons for Jason's girlfriend not to be with him — for instance, the "little" problems that come with loving and living together with a quadriplegic, were sort of drowned out by the intimate bond between the two. And who knows what will happen next with them; 40,000 $ a year really isn't that much in the big city and it seems the things that really tear a relationship apart, the nuances, the little things, are always happening off-screen on Friday Night Lights.
Please don't get me wrong, I love this show. It is must-see TV for me and I would never ever miss an episode. But let's just compare the show with Buffy for a second and let me give you the reason why Friday Night Lights will always be good but never great. What the show lacks is the last little bit of reality. The ultimate sacrifice. True finality. The realization that something can't be mended. Plain and straight: death. And in a lighter form relationships that can never ever be fixed (Anya / Xander for instance).
This week we saw another beloved character riding into the sunset, not knowing if he'll be OK in the future but with a good feeling about it. With Friday Night Lights you can always be sure that it sends you off into the weekend with a good feeling, the idea that if they can overcome their troubles, you can too. It's your happy ending to what might have been a miserable week. And frankly I don't really understand why this show doesn't get the ratings it deserves. I can't imagine that people nowadays need more reality in their lives.
Photo Credit: NBC