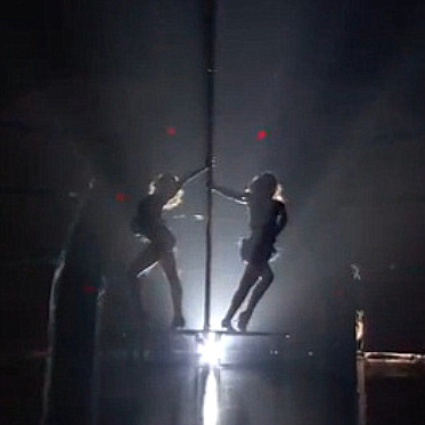 Huh. Pole dancing on So You Think You Can Dance. I'd've never thought …
Anyway …
We've got four contestants left: Tiffany Maher, Eliana Girard, Chehon Wespi-Tschopp and Cyrus Spencer. While each one deserve a spot in the Top 4, one gal and one guy stand out above the others.
Tiffany — while completely deserving with her tidy adaptations in the various genres as well as her own special abilities — plays second fiddle to the brilliance of Eliana. There's little comparison there. And Cyrus is a definite fan favorite, regardless of the expertise Chehon so easily displays. In a nutshell, there it is. There are your winners: Eliana and Cyrus.
The fact of the matter, however, is that there was still a little bit of dancing to commit before the whole thing got wrapped up. Let's simply toss out the solo performances — we all know they showed the strengths of each of the four. We belabor what we already know?
Eliana and Chehon: Ballet from a couple of finalists who do ballet? It doesn't get more fortunate than that. Unfortunately, the routine didn't showcase anything from Chehon outside his physical strength. It was a piece that shown its light primarily on the female lead … not that Chehon needs any help in that department.
The hip hop routine with Tiffany and Cyrus was frantic and somewhat violent. Interestingly, there were a lot of lyrical elements within it that could have gone very, very wrong for either of the two, but they put on the routine pretty well.
The classical mish-mash that was performed by all four was a bunch of drivel. Sorry Tyce DiOrio, but the choreography — good as it may have been — just didn't gel with the stuttering music. Too, too much corny-ness to be taken seriously. It was one of those routines that never should have seen the light of day — it was pointless.
Chehon and all-star Alison's lyrical piece was incredibly strong and powerful. It showcased Chehon in light of everything we've seen of him previously to be.
 Both the guys, dancing together to a Sonya Tayeh routine, were strong, masculine and both were not only in their genres at times but were given opportunities to step out of there elements a bit, too.
Eliana and all-star Alex did indeed got lost in their Travis Wall routine as Nigel mentioned. Beautiful stuff, elegant lines. Eliana was every bit the feminine epitome of a ballet dancer the dance asked from her.
The rumba Tiffany and Chehon did was utterly emotionless and lacked even the slightest amount of connection. Was it the difference in height between the two that helped contribute to that? Probably. They tried, but it was a moot effort.
Twitch and Cyrus do an animated piece "the whole world has been waiting for." The kicker here was the aftermath stirred up by Nigel and his comments post-performance. If there was any doubt about Cyrus winning the season as the top male dancer on the show, that doubt has been removed by Nigel's comments. Voters will take their choices for Chehon and offer them Cyrus' way. Unintentionally, Nigel did one a huge disservice to the ballet dancer while handing one monumental gain to the dub stepper:
The proof of my predictions will be in next week's pudding.
And … huh. Pole dancing. Go figure …
Notes:
Of interest and something that bears repeating (and which has been mentioned several times over): Tiffany and Cyrus have never been in the bottom of the pack during eliminations the entire season. That's really saying something …
I would like to know what anyone out there thinks of Nigel's comments to Cyrus at the very end.
Quote:
"The last time I saw anything like that it was with (American Idol judge) Randy Jackson … but we won't go into that …" — Nigel commenting on Tiffany and Eliana's Broadway pole dance routine
Photo Credit: FOX