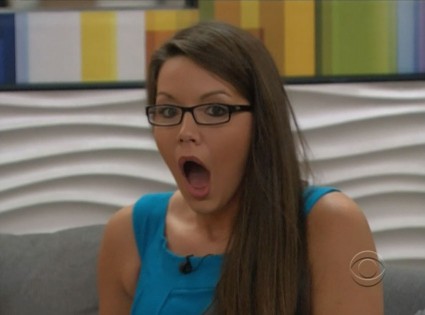 Well, that was certainly a shocking turn of events on this edition of Big Brother! I've got to hand it to Dan, as much as I don't like his constant lying and manipulation, he's playing a text book game. In his life outside the house, I think he has a bright career as a cult leader ahead of him, because he can say and do anything to his fellow House Guests — including the ones he's aligned with — and they just do his bidding. Poor, deluded Danielle. How much more of this can she take? Will she really buy Dan's latest line of bull that he took Shane out to secure her the win? Will Ian and Danielle finally be able to have a private chat and connect all the dots back to Dan? I'm surprised and thrilled that Dan kept Ian in the house, because out of the last four only he and Dan really deserve to win, but neither Danielle nor Ian should have been that shocked that Shane was sent packing.
Who was it that orchestrated Frank's eviction after swearing a final two deal? Who was behind Joe's and Jenn's evictions? Who just sent Shane out the door? All roads lead back to Dan, yet these people have put their complete blind faith in him even after knowing the outcomes of each eviction. Dan's methods, however, made it seem like he was simply suggesting who should go home so everyone else had blood on their hands but at least he admitted before voting Shane out that he truly was up to his elbows in blood. But has he burned too many bridges behind him, or if Danielle makes it to the final two with him will he simply stand up and tell the jury that he was behind every major decision in both the Quack Pack and Silent Six alliances, throw Danielle under the bus, and walk away with another half million?
The poor girl is probably so rattled now that she won't be able to focus on the first part of the HOH competition — which began right after the live show ended (the live feeds are down as of this writing) — and Ian is probably just as shaken up, having planned on having a nice chat with Julie Chen this evening instead of competing in a competition. If Dan wins (and we'll post a spoiler update when we find out), they might as well write him the check tonight. But, if Dan has any competition for the prize it's Ian. Ian's been pretty cagey within his alliance, and he's been loyal to the Quack Pack (I feel like calling them the Crack Pack, because that must be what Dan is feeding them to keep doing what he wants them to do). Should Ian be sitting in the final two, I think the jury will award him the prize over Danielle, because they'll just see her as Dan's puppet, or Dan because he's just screwed too many of them over. But, Dr. Will won by standing in front of the jury and telling them all that he lied to each and every one of them, so Dan certainly has that as a precedent to follow (and he could now finally dethrone Dr. Will as the "Greatest Player in Big Brother history").
I think Dan actually made a huge mistake in evicting Shane. Shane would have been the ideal House Guest to take to the final two because he has no real compelling argument to give the jury to award him the prize. Danielle has at least won HOH a couple of times, but she has to know at this point that Dan is only out to win for himself, not her. Ian, at least, can stand before the jury, expose all of Dan's manipulations, lay out exactly what he did since the formation of the Quack Pack, and prove he deserves the prize. And, really, all he has to say are these four little words: Dan has already won. That's also something he needs to drill into Danielle's head should she win two of the three HOH competitions. I don't think she has a chance to win against either Dan or Ian, so keeping Shane would have been to her best advantage as well. But keeping Dan could also pay off for her with most of the jury mad at Dan. Can they put personal feelings aside and admire his game against Danielle's? One thing's for sure, it's going to be an interesting finale. I'd actually like to see Dan and Ian duke it out with the jury because they both have compelling arguments to win. I'm Team Ian all the way should he be in the final two. I think he's played a great strategic and social game, where as Dan has been more like Russell from Survivor, smiling at his competitors (and alliance members) while stabbing them in the back. Once that spell wears off and those people are on the jury, it's hard for them to justify giving you a vote.
So who do you think should win the big prize next Wednesday night? Cast your vote in our poll below, and share your thoughts in the comments section! The poll will close on September 19 just before showtime.
UPDATE: If you're curious, the first HOH competition has ended and the winner was
Dan. Ian was the first to fall, and Dan apparently used his mind games on Danielle to let him win. And she did.
UPDATE: The second HOH comp was held Saturday evening, and the winner was
Ian, who will now face off against Dan on the live season finale Wednesday night. The winner will decide who goes to the final two with him. Whoever wins, the smart move would be to take Danielle.
Photo Credit: CBS