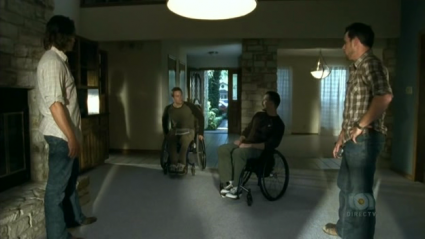 Sebastian's back again, Guest-clacking about another episode of Friday Night Lights….
This week we definitely got a filler episode. I mean how can it really be interesting how Buddy Garrity gets along with his children? The guy's just annoying. So his kids are influenced by his wife's new husband. Big deal, poor boy. Finally he got a taste of his own medicine (I have two words for you…). But honestly, who wouldn't exchange all this for another half episode with Smash Williams? In a heartbeat I tell you.
The wrap-up of the house flipping by the three Stooges plus Jason Street also felt too smooth if you ask me. There was a bit of drama but let's recap what happened — Buddy Garrity moves out, they buy it, they struggle for two weeks to renovate it and while we weren't looking they finished it and within the episode were able to sell it on their own with a nice profit. Isn't it great how in Dillon, Texas, with all the drama, all things seem to end well?
Landry, in the meantime, chose to basically get rid of his heartache by hitting on his new band member. Way to go, doofus. I mean this guy is supposed to be intelligent and everything. She's new in the band. The band is important to him. He shows her that he's still in love with Tyra. And then he tries to get a date with her. I'm really having a hard time believing that he's that brooding hyper-intelligent person he's supposed to be because he behaves like an effing moron. I mean, the only excuse for this stupid behavior would be puberty, but isn't he supposed to behave better than that? Nice payoff though, with her being gay and everything. But all was good in the end in Dillon Wonderland. Seesh.
To sum it up, I didn't care for any of the developments in this episode. Who gives a damn? Jason now has a couple of thousand bucks — but he was there before with the settlement money. That's still not a job. Buddy Garrity — just go away. Riggins getting recruitment letters — nothing new there either. We want to know what's going on with the team, with the playoffs, with Saracen and the coach's daughter. This could easily have been another Smash episode, just drop this whole Jamarcus garbage — what kind of name is that anyway? Let's just write this off as character development and a tiny bit off story advancement. Next week's episode will be better, promise.
Photo Credit: NBC