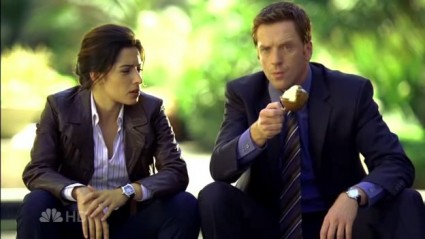 Sebastian's back Guest-clacking for us again, taking a break from his usual commentary about Friday Night Lights….
How insanely good was last week's episode of Life? What do you mean you don't know? Go watch it right now on NBC.com and when you come back we can start with talking about the music after the opening credits….
A cover version of "Baby One More Time" (by Travis) I felt the urge to dance to — awesome if you ask me. To be honest, I never really listened to the text when Brit Brit made her debut with that song and when I listened closely during the show (you know — being German and all and having to focus a little bit) I never caught the double meaning, not even up until the end when the "big twist" was revealed. Remember that episode of The Mentalist where we all knew that Kyle XY's mother was the perp? Back then I still tremendously enjoyed the episode, here I was kind of blown away.
But this time, on Life, it caught me totally by surprise. I can't remember when I was mislead like that the last time. With the global economy on the news and the problem of not understanding most if not any of it (not even by listening to those two great episodes of This American Life, namely 355 and 365), I never ever (ever!) thought that this guy wasn't a stock broker — I mean, do you know what a derivative is? So some person ordered a hit on him, right? Something I guess Bernie Madoff should be afraid about. Boy was I wrong; I didn't see it coming in the slightest and was so amazed at how the authors of the show managed to so perfectly mislead me. That's one thing that made this episode great.
The other things, of course, are more about the back story. Getting Reese out of the picture so Crews had to work with her Boyfriend … er, I mean, their boss for a change was one thing — working with his old cop buddy who later on nearly gets killed by the hitman/woman changed the dynamic of the whole show, and it all went on so seamlessly. Instead of talking to Reese, Charlie simply talked to a tech support lady in India, which he clearly deducted with his fine criminology skills (that was irony).
So things with Bobby are back to "normal," or whatever you can call it when an ex-partner doesn't believe that you were innocent. Crews saving him in the end and not going after the assassin underlined that, with the nice payoff that Crews already expected her to run in the first place and the poetic justice of him catching her with things you can find around the house.
On top of that, the back story got furthered even more with Reese having to undergo a lie detector test and Ted, in his infinite gullibility, lead that pretend-student with the English accent around the house.
This has been the absolute most perfect episode of Life to date. I can't imagine how pissed I would be if the show got canceled due to the kind of measly ratings it gets every week. You can only hope that that Jay Leno behemoth doesn't "force" NBC to kill this great show.
I mean it's better than Dollhouse, right?
Photo Credit: NBC