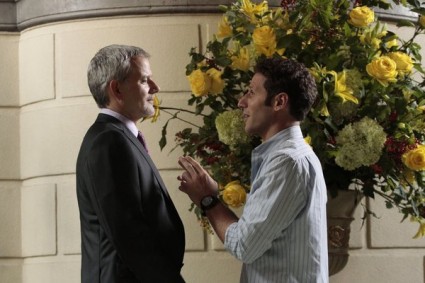 The penultimate episode of the fourth season of Royal Pains was as stuffed as the turkey served by your grandmother on Thanksgiving. One of the few complaints I've had this season is that the writers haven't had Boris around as much … especially since actor Campbell Scott has been promoted to a series regular. Well, it seems that they were saving him until the end to help wrap things up this season. No worries.
In this eventful installment, Boris requested Hank's help with his sick friend Dimitri. The two had to travel overseas in secret, but were able to put aside their differences after having a major falling out a few episodes ago. In all honesty, I wasn't really intrigued by this particular plot, but I'd be lying if I said I wasn't happy to see Boris around again. You see, Boris adds a touch of intrigue and mystery to Royal Pains. Having said that, maybe it's good that he doesn't appear in every episode. I guess it goes with the whole enigmatic vibe.
So, since Boris appears sporadically, may I nominate Jeremiah to fill the void? I don't think it's a secret that Jeremiah is my new favorite character. He fits in so well with HankMed, and I'm intrigued by his crush on Divya. I'm certainly hoping that he comes out and tells her that he likes her. Judging by the previews for next week, Divya may be able to use his lovin'. It looks like her new main squeeze may be two-timing her. This boggles me. Who the hell would cheat on someone as gorgeous as Divya? That's about as nonsensical as Eric Benet cheating on Halle Berry. I'm just sayin'.
It was nice seeing Divya back in the medical world in this episode. To be honest, I was getting a little tired of seeing her fawn over the horse rider. Granted, he is charming and it was something different, but Divya works best when she's lending her smarts to Hank and Evan. I liked seeing her and Jeremiah team up to tackle the dilemma surrounding a pharmaceutical saleswoman who had a major sleeping problem. However, she wasn't the only one with issues.
Paige seemed to have her own. We didn't learn whether or not guest star Rosanna Arquette is her real mother or not. We'll find that out in the season finale next week, but I think it's safe to assume that she's the real deal. I've really enjoyed Paige and Evan this season. It's nice seeing how the writers have given Paige her own storyline. I've enjoyed it as much as I have Jeremiah's — well, almost.
One storyline that could use a bit more work is Hank and Harper. I like Harper. That chick is easy on the eyes, but, well, I just can't bring myself to care about her. I think it's obvious that they are heading to heartache. Relationships for Hank don't seem to work. Maybe it's because he rushes. I really want Hank and Harper to work … but maybe they need to slow down. That's just my opinion.
And that does it, folks! Next week is the season finale! Is it just me or did this fourth season fly by? So, will Divya and Jeremiah ever hook up? Will Hank and Harper stay together? What does Boris have up his sleeve? Share your thoughts!
Photo Credit: USA Network