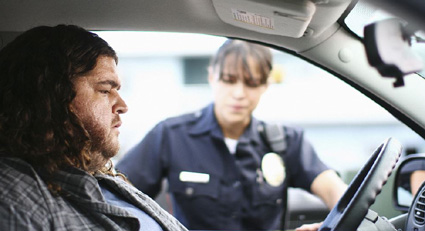 (1/12 – 1/18)
No. Not really. In fact, it was the lowest rated premiere the show has ever had. Somehow though, ABC managed to massage those numbers so much that they felt ok producing a promo that called it bigger than ever. It's lipstick on a pig. DVR, streaming, illicit downloads, no matter what spin you want to put on it, Lost is way down from its once lofty numbers, and it has virtually no chance of ever regaining those lost viewers. It's not all bad though, because what is left of the audience is still pretty substantial. We'll get to those numbers, find out what happened in the latest round of the Grey's / CSI battle, and see if those 30 Rock numbers managed to drop again, after the jump.
ABC - Since I led off with the Lost promo shenanigans, let's get right to that. The premiere came in with good numbers (11.35m/5). That did place it third in viewers, behind Lie To Me and Criminal Minds, but the plucky islanders were first in the all important demo number. If the show can maintain  most of that, it's a very good start to the season, but I would think some of the folks over at ABC are a little concerned about Idol moving into Lost's neighborhood. The news was similar for the doctors over at Grey's (14.43m/5.7). They were second to CSI in viewers, but also managed to take the demo.
Grey's led to another small bump for Private Practice (9.48m/3.6). Those still aren't huge numbers, but the show is at least making a case for staying around. Things were less exciting for Desperate Housewives (13.08m/4.6). The show ran into the buzzsaw of playoff football, but that should be a one week thing. Surprisingly, the big winner for the week was The Bachelor (9.95m/3.6). The show managed to gain in both viewers and the demo, despite the debut of FOX's new Monday. Elsewhere, the shine seems to be off True Beauty (5.84m/2.6) as the numbers were down again.
NBC - As has become the norm, there isn't a lot of good news for the once proud peacock. The Biggest Loser (10.27m/4) bounced back a bit this week, thanks to an NCIS repeat and no Mentalist. And The Office (8.75m/4.6) continues to carry the weight on Thursday. Other than that, it's not so good. Superstars Of Dance (6.5m/1.7) and Momma's Boys (4.85m/1.8) are not up to facing new programming from the other networks on Monday. On Wednesday, if NBC hasn't already canceled Knight Rider (4.93m/1.5), the viewers have. And Thursday, once again, brought another small drop for 30 Rock (6.41m/3.2). The worst of it though, was Friday Night Lights (3.96m/1.4). That whole DirecTV thing complicates matters, but I can't imagine less than four million viewers is anywhere near renewal.
CBS - The AFC Championship (40.65m/14.7) got things off to a huge start for the network. That led in to an oddly placed Sunday episode of The Mentalist (16.39m/4.6). That is the biggest demo number the show has done, but it wasn't worth having to hear about it from the chick in accounting at work. She was pissed that she missed it, and I would appreciate it if CBS would try not to infringe on my day in such ways. Kidding aside, it probably was the best show to slot in after the big game. The Mentalist is still new enough that it's good to get it in front of as many new eyeballs as possible.
The showdown with FOX on Monday came down just about how I thought it would. Big Bang Theory (11.02m/4), How I Met Your Mother (10.69m/4.5), and 2½ Men (16.09m/5.4) all held up well. And then Worst Week (9.59m/2.9) dropped the ball. I'll say it again. Gary Unmarried deserves a shot in that spot. Fox took the night, but this was still a solid result for the CBS Monday. Criminal Minds (13.81m/3.4) was down a bit going against the dueling premieres of Lie To Me and Lost, but still managed to take the viewer crown. I would expect those numbers to bump back up in the coming weeks. Lost and Lie To Me should both drop from the premiere numbers, and J.J. is finally coming back.
FOX - As we all expected, Idol continues to power the network. There was a bit of a dip on Tuesday (22.77m/9). I think we can blame that on the inaguration. The numbers were back up on Wednesday (25.89m/9.8). Things are fine with Idol. The more interesting bit is what that meant for Fringe (11.96m/4.6) and Lie To Me (12.37m/4.9). Those are both really good results, on their own, but a little less exciting when you consider the lead in. The next couple weeks will be very telling where that is concerned. Ideally, both of these shows would be holding on to much more of that Idol audience.
Elsewhere, House (15.03m/5.5) looks great on Mondays, and paired with 24 (12.1m/4.1) to win the night for the network. The news was also good on Thursday, as we got our first look at Bones in its new home. The numbers at 8 (9.98m/3.0) were near enough what Bones has been doing, and far better than anything else the network has been doing on Thursday. I still don't get what they were thinking with running a second new episode at 9 (7.55m/2.5). It seems like burning one off for not much gain.
CW - It was an interesting week for the little network. With all the talk about what would happen with House moving to Monday, I never thought Gossip Girl (2.22m/1) would be the show to take the biggest hit. Who knew so many young girls were into Dr. House? One Tree Hill (2.6m/1.3) was down as well. That left the door open a bit, and 90210 (2.3m/1.1) actually managed to best Gossip Girl, despite airing against Idol. On Wednesday, Fear Is Real (1.36m/.5) continues to struggle. Add it all up, and you find that  Smallville (3.85m/1.6) and Supernatural (3.06m/1.3) make Thursday the strongest night of the week.
A host of repeats take the fun out of a lot of the matchups for the coming week. Criminal Minds gets out of the way so Lost and Lie To Me can face off again. We'll also see what Life On Mars is able to do following Lost. Given the history of that exercise, good luck.
Photo Credit: ABC