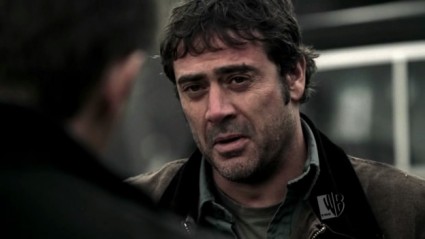 After coming back from a too-long hiatus last week, my Virgin Diary for Supernatural is coming to a close. I'd planned on getting through two seasons this summer, but that is sadly not going to happen. I'm sure the weekly readers of this series have a pretty good idea why, but if not, it will become clear very quickly.
Episode 19: "Provenance"
This was it; the touch point episode that helped me cement how I feel about Supernatural. Sadly for fans of the show, it didn't really bring me around in a positive way. On some level, the show's just too small for my tastes. Don't take me the wrong way, I don't mean in a specifically negative way; the show's got a decidedly sweeping scope. The boys travel across the country's heartland, encountering all types of mystical spirits, creatures and phenomenon. When I saw small, the easiest way to illustrate what I mean is by looking at the regular cast list.
This show is all about two guys. Each week we get a new monster, a couple of guest stars and the occasional allusion to the show's greater mythology. I'm sure – in fact I know – the show develops into more as time goes on. But at its root, it is still the Sam and Dean show. If you're not particularly drawn to either character – and I'm not – then you're kind of out of luck.
Take Sam's relationship with Sarah this week. It is one of the few real connections he's made with any character outside his family since the series began. But you just know the relationship isn't going anywhere. I was actually pretty surprised she was even mentioned in "Dead Man's Blood." I know it's only 19 episodes into a series that is now entering its eighth season, but for my money, I'd like to see more character development by now.
Episode 20: "Dead Man's Blood"
John Winchester is the exception to the rule, but tossing him into the equation creates more problems than he resolves. True, he's been the only real constant beyond the boys this season – Meg's two episodes notwithstanding. But John being around doesn't allow the boys to grow as characters; other than standing up to him a little in this episode, the best they can hope for is the status quo. They aren't children any more, as they pointed out.
Episode 21: "Salvation" and Episode 22: "Devil's Trap"
As much as I've complained – particularly in this post – about Supernatural, I won't do so about the two-part finale. Despite not liking the main construct of the show, I can't deny that the season didn't end with a bang.
I was particularly sad to see Meg go – as permanent or not as it may be. She was interesting because she managed to be simultaneously a player and a pawn. The character had this special kind of gravity; whenever she was on screen, she was all you were paying attention to.
The show did a great job of making me think that John Winchester was in mortal danger. That is one of the real benefits of how he drifts in and out of the story; he's expendable. His death – which I assume does happen sooner rather than later – will push the boy's story along. That's a good thing, but I'm just not going to be around to see it happen.
I'm glad I took on Supernatural this summer. I've always wondered about it, and now I know for sure. I don't think it is a bad show; it just isn't for me.
Thanks for taking this ride with me. If you think I'm totally off base, let me know in the comments section.
Photo Credit: The CW