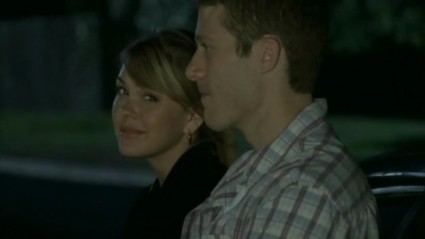 (Season 3 Episode 3 – "How The Other Half Lives")
Sebastian's back guest-clacking for us again….
This week's episode was all about the upcoming game against Arnett Mead. The Panthers never managed a win against them and with J.D. McCoy's father flying in a personal passing coach for his son, the pressure is on for Matt Saracen.
The first scene was basically Coach Taylor paying lip-service to Matt that he's QB1. But as we all know in the end, all that matters is results and Matt knew that. As a result, he was frustrated with the whole situation, knowing that only a win might save him his position, no matter what the coach told him. It was really good to see Julie trying to get the pressure off him when he ranted in the school's cafeteria -– with her actually telling him he's cute when he does it. Makes you wonder where this might go.
Meanwhile, principal Taylor had to fill the role of the coach's wife in planning and staging the Panthers' annual coach/player BBQ at the Taylor's house. With all her new, additional responsibilities this year it's no wonder that she more than willingly took up Kate McCoy on her offer to have the BBQ at the McCoy's house. And of course that's the last thing her husband wanted. After refusing smoothies, whiskey and cigars he feels like the McCoys finally got an "in" to make him let J.D. play in the Arnett Mead game.
But what could Tami have done with Kate McCoy even offering to help with the school's dire financial situation, basically acting as a rainmaker? The funny thing I thought was that while her husband felt that the McCoys try to influence them, Tami more than willingly opened her arms towards them, not even thinking about the fact that Joe McCoy's also member of the booster club. And those guys are currently in the process of forcing her to use the Jumbotron money for an actual Jumbotron … but who knows, maybe she thinks she can play Kate McCoy to get her money or maybe she's just a little gullible at times while having a big heart and embracing every offer she can get.
At the BBQ, J.D. (which apparently stands for Joe Doyle) McCoy had his first few lines on the show ever when he caught Matt and Julie in his trophy room, making a sarcastic remark that his parents even bronzed his first diaper. So he is able to speak, not just throw the ball.
Riggins and Lyla continued their path to self-destruction, with Riggins unable to smooth things over when the Colletes visited Riggins' place to plan Mindy's and Billy's wedding. In his defense, he was outside to find out about Billy's plan to steal copper wire from a nearby power plant, with Billy guilting Tim into helping him pull the heist. In the end Tim missed the BBQ because Billy wanted to steal all the wire, not just part of it. You've got to hand it to Riggins helping his brother and sticking with him. That's the good guy Lyla sees in him, even though it resulted in him committing a crime. In the end we had Lyla crying because Riggins stood her up, almost pleading for him to do the right thing. He promised he won't let her down again. We'll see about that I guess.
No matter how much the boosters and everyone else pressured Eric Taylor during the BBQ though, he stuck with Matt Saracen who managed to keep the Panthers in the game against Arnett Mead, taking hard, late hits, even getting a cut over his right eye. Riggins was a huge help in keeping the game open and in the last few seconds, Saracen chose to go for a draw play and put all his money on one card. And he lost, with him not able to hold on to the ball and most likely with that also onto his position as Quarterback. After that kind of a loss, it's really hard to see the positive side of it all with Julie waiting for him, even though Matt tried to outwait them all to run home like a beaten dog. Currently Julie's the only good thing going on for Matt and frankly these kind of moments are the ones that I like so much about Friday Night Lights, with Saracen donning a wry grin even after what most likely was the loss of his life in football.
Sidenote this week: Smash Williams waiting for his tryout at Texas A&M, which will not be for another week. He was offered a regional manager position with Alamo Freeze, which he was about to take on but his mother wouldn't accept that. With his prospects of not getting a full scholarship, she took up another job on the weekends as a home nurse. It's really sad that Gaius Charles is only listed as a guest star this season, which is a hint towards the fact that next week will be the end of his story on Friday Night Lights. He was a big part of the show and not seeing him play for Panthers really feels off. Also, he was a sophomore in season one already, you can't help that I guess.
The episode ended with the Taylors getting home to a front yard full of "for sale" signs. That's how fast things can turn for the coach of an ambitious Texan High school football team. The pressure is on and the question is how long Coach Taylor can hold out on implementing the spread offense.
The song at the end of the episode, by the way, was Bixby Canyon Bridge by Death Cab for Cutie
. You really have to tip your hat at some of the musical choices of the production team; they really aim at making you get all misty at least once an episode. Some readers might have noticed that I don't rate the episodes at all because to me, every episode is a different kind of awesome. I'm sorry, that's just how I see it. This season has been great so far and the even great thing about it is that there are ten more hours of stories left. I can hardly wait reviewing them here.
Photo Credit: NBC