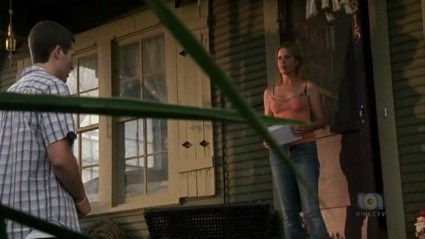 (Season 3, Episode 2 – "Tami Knows Best")
Sebastian's back Guest-clacking for us again….

In true Friday Night Lights tradition we got another episode filled with adolescent teenagers trying their best to do things that aren't good for them. As expected, Riggins did his best to screw up his relationship with Lyla, but she wouldn't have it.
After openly showing her affection towards him at the season-opening party last week, she now invited her boyfriend (Can you even call him that? I guess he'd offer you a beating if you did.) to dinner with her father and J.D. McCoy's parents. With Riggins getting quite a nice amount of letters from colleges, showing interested in him playing for them, Lyla thought Joe McCoy might be able to get Riggins into a good college. Riggins, trying his best to be the good guy, with the help of Google even found out where the beer-millionaire McCoy played during his college years. He can be proud of himself, can't he, allowing his girlfriend to dress him up in a suit and tie and him trying his best to be a good boy.
Of course all that went to hell instantly with Buddy Garrity and his inability to accept Riggins as the future father of his grandchildren, getting into Riggins' face before said dinner, resulting in the poor guy freezing up, making a fool of himself and totally blowing the chance of at least looking good at the table for Lyla. Ordering raw pigeon didn't help either, and in pure Riggins' family tradition he didn't complain about Buddy to Lyla but rather tried to drive her away completely, unable to accept the fact that what he just did was part of actually growing up, or better growing a pair in a different way than downing a quart of Tequila without vomiting. He's lucky that Lyla's better than that, and a cheeseburger smoothed things over for the time being. It's not hard to imagine what's coming up next; the abundance of alcohol in the Riggins household doesn't bode well.
When the story turned to Matt Saracen, we saw that even a guy who's responsible in all kinds of ways has his own share of problems, with him finding out that his grandmother is no longer willing to take her blood pressure medication. The only way for him to get the pills for his grandmother was becoming an emancipated minor and on top of that her legal guardian to be able to mix the medicine into her food. And because his dad is still in Iraq the only way to get that done was to borrow Landry's car, driving back to Oklahoma to visit his mother whom he hasn't seen for a couple of years, having her sign the necessary legal documents. The only thing positive about all this was Matt reconnecting with Julie Taylor over this. Wasn't she the smitten kitten behind the restaurant, growing up both as a person and … you know. Again with the adolescence and the question of what's good for you. Leaving Matt out of fear and a crush on the Swede last summer was a mistake she might still be able to erase.
Her mother Tami, meanwhile, gave an interview to the Dillon Daily Times and that neat headline "New Principal Vows to Shake up Establishment" wasn't quite what she herself might have expected. Of course she instantly got into trouble with the new mayor of Dillon ("the lesbian" that Coach Taylor wasn't that comfortable with last season before it gut cut short, whom Tami supported in her campaign and who most likely made Tami principal in the first place). Mayor Rodell wants her to use the money for what the boosters collected it for -– a Jumbotron, not the school's other, much more needed extravaganzas like air-conditioning. Everyone's against Tami it seems and most likely Dillon's football stadium soon enough will feature marriage-proposals on a giant screen just like Buddy wanted it. Simply make the students sweat a little bit more, who cares.
Sidenote of this episode: Tyra campaigning for president, using her sister and other girls from the "Landing Strip" as an asset and telling the students she would be the wise choice as student body president for said body to get laid at the prom. Good to see that Tyra, when in dire straights, focuses on what she's good at. Or maybe what seems good at first glance. Principal Taylor prevented Tyra from getting suspended this time; question is how long Tami can keep Tyra from doing something just as stupid. A suspension won't look good on any college application. To be honest, this girl is really starting to annoy me. It's as if she has a built-in "stupid-mode" she activates every time she stands at a crossroads. She'd be perfect for that <- Safety / Death -> scene in Scary Movie.
And of course Brian Williams' training resulted in him getting better and better, though at first he was still afraid of another injury, holding back. Only when the Coach put him into a real game situation, with the whole team getting into gear for some plays, "Smash" was finally back, able to get over his fear. And Finally the call came -– two weeks 'till Smash will have his chance at Texas A&M. I guess we all root for him but this chapter of FNL really needs to come to a close now and he is such a good guy he deserves a happy ending.
Photo Credit: NBC