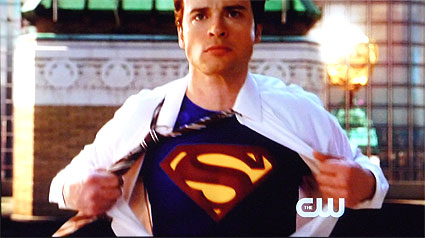 Who would have thought on October 16, 2001, a little show on a little network called The WB would be wrapping up it's run on a slightly different version of that network ten years later? And who would have thought that a show based on the early years of a world famous comic book character – a show that started out as a "freak of the week" show – would have become the longest running fantasy show in television history?
I don't think anyone thought Smallville would last more than a couple of years, much less ten, and it's with a great batch of mixed feelings that I write my very last post on the show. I loved the show when it started, but then it got a bit silly and I pushed it aside around season three or four – I still don't know why Pete Ross left Smallville – but then I started hearing good things about it again and I've been a steady viewer since season six (I think I had to see how they were going to bring Lois into this mix since she really didn't fit into the comic mythology at this point in Clark Kent's life). It's been a rollercoaster ride of highs and lows but for a show of its age, I think it really hit its stride again around season eight.
So, did the finale live up to what had to be some pretty grand expectations, or is it going to divide the faithful as much as the Lost finale did? For the most part, I enjoyed the finale but my biggest complaint is that knowing the end was coming at the start of the season, the producers really should have gotten to work on the mythology and left behind all of the stand-alone episodes that had nothing to do with this season's big bad, Darkseid. There was so much crammed into the last three hours – including new villains in the form of the Legion of Doom last week – that the vanquishment of Darkseid was pretty anti-climactic. I would have liked more of Granny Goodness, Glorious Godfrey and Desaad as well, to see them going about their business preparing for Darkseid's Apokolips. There was just a lot of time squandered on episodes like the Booster Gold episode and the Hangover rip-off – and as entertaining as they were, they were unnecessary at this point in time. As it was, Darkseid almost became an afterthought.
That aside, what did I love about the finale? I'm so happy Chloe came back, and I really liked the seven years in the future framing device. I'm glad Clark was able to rescue Oliver from Darkseid. It was nice to see Martha come back, as well as Jonathan's spirit, to tell Clark he didn't have to let the past go – and that Jor-El also told him that his life in Smallville made him the hero he is today. I loved Lex and Clark's little chat at the ruins of the Luthor mansion (and that Lex is president in 2018!). I was glad to see Lionel back for one last evil plan, and was totally surprised when HE became the embodiment of Darkseid instead of Lex (who merely got Lionel's heart in the exchange). I liked Lex telling Tess he always knew she was his sister and that's why he recruited her to run Luthorcorp – but I didn't like that she was the only major character to die!
And even though getting rid of Darkseid's Apokolips seemed pretty easy-breezy once Clark finally embraced his entire life and fulfilled his destiny, my favorite part of the show was the last few minutes in 2018 at the Daily Planet. It was a wonderful homage to the original Christopher Reeve movie, with the added bonus that Lois and Clark already have a relationship but still haven't managed to get married. It would have been nice to see Tom Welling actually in the full suit instead of a tiny CGI version of him, but that final moment on the roof of the Daily Planet, with the original Superman fanfare in the background, was a perfect ending because we don't have to imagine what happens to the characters after the credits roll. We know … from comics to various TV shows to the movies, we know that these characters do live on. For me, that makes up for any small disappointments I might have with the finale.
I want to say thank you to everyone behind the scenes who made Smallville such a great show, and I especially want to thank the cast: Tom Welling, Erica Durance, Allison Mack, Justin Hartley, Cassidy Freeman, Michael Rosenbaum, John Glover, Annette O'Toole, John Schneider, past cast members and special guests … I will miss seeing you all on a weekly basis but I thank you for giving us ten pretty solid years of great entertainment.
UPDATE: There is a story circulating now that Warner Brothers put some restraints on just how much we were allowed to see of Tom Welling in the suit (i.e. no full body shots except the tiny CGI character).  Not sure of the reason why, but probably because they didn't want to diminish the impact of seeing Henry Cavill in the suit making his debut in the new movie.  I think they did a disservice to the fans of the show if that's true.
Photo Credit: The CW Network