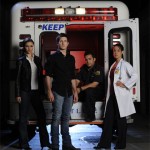 Sebastian's back Guest-clacking for us again, after sharing his thoughts about The Listener's second episode with us last time.
OK, I'm the first to admit it — this episode was confusing, to say the least. First of all, I didn't really know who Johnny Rotten was so that pop culture reference fell flat for me. Also, it was more than annoying that it took the show more than half of the episode to reveal at least a little bit about why on earth said Johnny Rotten hobo-guy visited the girl in the locked room without actually letting her out, or helping her or whatever. To say I was annoyed when I first saw this episode is an understatement.
On top of that, Oz trying to help Toby resulted in him getting the third degree from George Ryder, his and Toby's boss. What a douche that guy is. It's kind of funny when you literally see Oz starting to sweat in Ryder's presence but honestly, if you had to imagine working under that guy … at least for me that would be hell on earth.
But let's focus on the positive aspects — Toby is trying to rekindle things with Olivia. He's also working more and more with Charlie (the cop lady in case you were wondering). And even though Toby puts a little bit too much on the line when trying to get the location of the girl out of Johnny Rotten, basically dragging victim after victim into the ER seems to be reason enough for Olivia. And Charlie seems to only care about results and lets everything else slide now, instead of suspecting Toby of theft or other things.
As promised, there were also more flashbacks to Toby's past. It seems he has a sibling and his mother made Toby run away when the usual "bad people" came to get the kids from her. Ray (Toby's psychiatrist/doctor) isn't too happy about Toby remembering. It's the usual shtick about people with paranormal abilities, I know. There's a secret they want to find out more about, they change, they start investigating, they hurt the people around them… you could say that you've seen this all before — and you'd be right — but what makes The Listener interesting in this is the character interaction of which we'll get a lot more.
As long as NBC keeps the show on the air. The ratings aren't that good (while still above Dollhouse numbers) but if you don't like the show after episode six you have my permission to drop it. Things aren't that interesting right now because Toby's still trying to find his role in life, his purpose, and the show merely reflects that. It's what makes it feel as if something was off, which it actually is since Toby hasn't found his way yet. But he will, trust me, and with him the other people in his life. Oz being the first.
And remember, there's nothing else on anyway, right?
Photo Credit: NBC