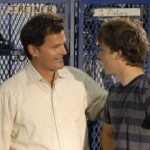 Sebastian's back Guest-clacking for us again, after sharing his thoughts about Dollhouse with us last time….
I have to admit I'm "a little" backlogged. Two weeks ago I chose to write about the possible two year renewal of FNL and skipped the weekly recap of the episode. Things are still looking good for our little show that could, as EW's Michael Ausiello now reports that contracts are about to be signed any day now. Let's hope he's right and that the fat lady sings soon. Be warned, there are little spoilers about the possible next season of FNL in his comment about the contract negotiations.
Last week I had a little cycling accident and kinda broke my left hand. I pretty much got screwed last Friday when the show was on the air (with six titan nails in my left hand) so here I am back again catching up on what is, with today's episode, a three-in-one recap.

Let's first tackle what "Game of the Week" brought us on Feb. 13th. Tyra finally found out what her rodeo clown is all about (gambling and showing women) and she was left with ruining Tami Taylor's birthday. You know I was already angry about Tyra choosing that guy over Landry, but what really sent me over the edge is her whininess on the phone. Isn't she taller than the guy? Why does she have to cry like that? I don't get this type of girl — all up in your face and then when things get a little rough they collapse like a deck of cards. I so want her to be stronger than that, more confident. She could be so much more than this, she could have so much better boyfriends than this clown. She could have Landry.
Back in Dillon, Tim Riggins chose to behave like an ass again and stood up the recruiter he was supposed to meet, got dropped off in the middle of nowhere by Lyla for that (and rightly so), got his act together and now made it to college. Congrats. At least one idiot manages to get together with a good influence and do what's right.
Last item: Saracen got to play Wide Receiver and practically won the week's game while his mom and grandma watched. Aw cute. Good for him, finally a week where he's the man and nothing goes wrong.
Moving on. Last week's episode was titled "The Giving Tree," and while I was intubated and cut open, more good things happened to Matt Saracen (wink wink nudge nudge) until the point where he and Julie Taylor got caught in the act by her father. Julie later on had Lyla Garrity to talk about the the world coming to an end or better of not being her father's innocent little girl anymore. I guess this is the worst way for a father to find out about it and I'm glad FNL chose to show us how a strong father figure deals with the situation in a great way, all the while being terrified and struggling. This is what makes FNL great TV — the reality of it all. Compare that to 7th Heaven and you know what I mean. When Coach Taylor is afraid, you see it in his face — in his eyes. He doesn't even have to say it.
But let's talk about the reason why Lyla was there for Julie in the first place — Buddy gambled away all of her college fund and got into a fight, causing even more costs for damage done at the Landing Strip. Like I said before, I don't care about Buddy (he's something I really could live without on the show) but I guess he's just another reality in the lives of people — a guy who thinks he knows what he's doing and actually never really does. That investment was a mirage and it wasn't his right to use money that wasn't his. I've been in this situation myself over a decade ago. Trust me, to some of the people involved I didn't talk to anymore and still don't. You get promised something your whole life from the day you can think straight you know — one day I'm going to get that money and I'll be able to get a good education with it — and then it all goes away because suddenly the person who made this big promise betrayed you. How can you look somebody in the eye again after the trust is broken?
Last up: Tyra and Landry, the reason for this episode's title. Landry finally said no to Tyra. Good for him. Finally. And also finally she gave something back in getting Scrusifictorious a gig. So she is a friend. Or more. Who knows where all this will go. Musicians get all the girls, don't they….
Finally Coach Taylor got evicted from the game of the week and suddenly has to face the fact that J.D.'s personal trainer is more than capable to take over and maybe not just for a single game; no wonder Joe McCoy's ecstatic right after the game. He told his son to lay off girls and right afterward the guy he personally payed to train his son shows how capable he is to replace the guy who he thinks holds his son back. Too bad his son had to rain on his parade when he hooked up with his girlfriend against his fathers "orders." Seems Tim Riggins is a real good influence.
Which brings us to tonight's episode — "A Hard Rain's Gonna Fall" — and all the trouble you can get into when you don't listen to Joe McCoy's orders. He starts hitting you. That's pretty much all the episode was about — J.D. not listening to his dad, getting hit after the game for it, and ending up at the Taylor's house with his mother. Landry helping Tyra out staging the bridal shower for Tyra's sister is hardly worth mentioning then, just as Lyla acting like Tim this week. Oh and there's going to be a second high school in Dillon next year. What's up with that?
The Panthers are going to state again and it's hard to imagine that after tonight's incident J.D. will have his mind free for the most important game of the season.
Photo Credit: NBC