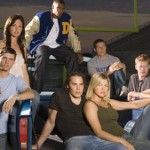 Sebastian's back Guest-clacking for us again….
This week we start off with the Dillon Panthers facing the Fr. Hood Mavericks, and the slow dismantling of Matt Saracen continued. From QB1 to shared Quarterbacks in the first few minutes of the episode, Coach Taylor quickly chose to end the so-called rotation and relied on what he himself called the best arm in the league, with J.D. first throwing a Hail-Mary kind pass and then staying on the field. Sure, "Seven" managed to win the game in the end with a draw play but who cares? At the end of the episode everything was said and done — McCoy's the "man" now.
Funnily enough, today Keith posted his "Seven really unlucky TV characters" article and reader and reader BDUB nominated Matt Saracen as an addition to that list. A premonition? Guess not, but tonight's episode was the embodiment of Matt's bad luck. Like that time when Coach Taylor put him in the cold shower, Matt has one of his outbursts towards inanimate objects, slapping helmets around in the locker room. Again he's screwed, and Coach Taylor doesn't even let him quit the team. This show doesn't seem to be about clean finishes.
In other news, Jason Street doesn't make enough money anymore at Garrity Motors to come even close to supporting "his family," namely son Noah and Noah's mother Erin, with whom he doesn't even live with. With the copper-wire money from the Riggins-brothers, the rest of his insurance money and a bit more from Herc he gets a loan and buys Buddy Garrity's house with the plan to flip it. Good luck, Jason, getting that done with three guys who don't really have a track record of being the most reliable friends, let alone hard workers. In the end, Erin didn't even believe in Jason's plan and tells him that she will move back East with her parents.
So who do you think wins the trophy of being Friday Night Lights most unlucky person? (sorry I love these guys so much I don't really consider them being characters). Maybe Landry, with Tyra now schmoozing around with the Rodeo Clown?
Photo Credit: NBC