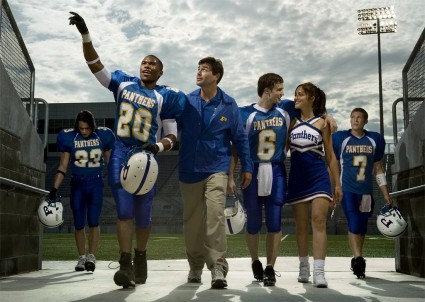 Sebastian's back Guest-clacking for us again….
This episode marked the end of an era on Friday Night Lights with Smash Williams finally making it into College at Texas A&M. It's been a long hard road for my favorite character on this show and I'm sad to see him leave for good. Unfortunately there's nothing left to tell and all that is left is thanking Gaius Charles for more than two seasons of great acting and the superb portrayal of a struggling African-American football player. The character, the actor, the story — everything was pitch perfect and I'm more than glad that we got the ending we all deserved to get for this guy.
For us, the viewers, it is now time to look forward to seeing other great storylines develop. But unfortunately this will have to wait until the next episode airs for the rest of this one wasn't that great. Or better, it was business as usual with Tyra again making a marvelous decision in choosing that rodeo clown over Landry. Great job Tyra, let's spin the wheel for you to see what his faults might be? Is he a) an alcoholic; b) does he have a wife and kid or maybe c) he'll beat you. And again you had to crush the guy who has always been there for you. Honestly, it's just not funny anymore. The question is whether Landry will be so stupid to be there for her once she's down. Which she will be. We all know she will, that seems to be her destiny, doesn't it?
Speaking of funny (this time for real) the moment where Principal Taylor introduced the community to the new Jumbotron was priceless. Obviously Buddy Garrity will volunteer for a couple of charity things he didn't know about. Good job Tami.
And finally we see Saracen reconnecting with his mother. Seems she wants to be in his life now and he reluctantly lets her take over some responsibilities. It's going to be a fun dynamic — his mother, his grandmother and Julie Taylor, one shy guy and three women who know what they want.
So the title of this week's episode was more than fitting. "Hello, Goodbye:" one goodbye, lots of Hellos. More rodeo-clownage and most likely J.D. McCoy becoming QB1 next time. Stay tuned and convince your Nielsen-Family friends to tune in. Don't make me start a nuts campaign!
Photo Credit: NBC