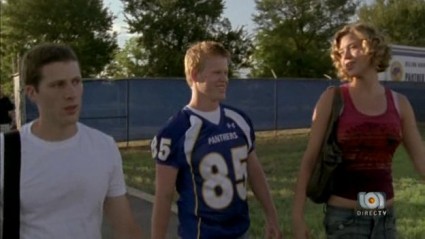 (Season 3, Episode 1 – "I Knew You When"
– Season Premiere)
Sebastian's back Guest-clacking for us again….
Since I guest-clacked about the first five minutes of the season premiere of Friday Night Lights on Tuesday, we can skip the recaps and summaries and focus on the interesting new things going on in Dillon, Texas. It seems there are problems looming on the horizon for everyone.
First of all we get introduced to 15-year-old, record-breaking Wunderkind J.D. McCoy, who will be the threat to Matt Saracen in the Quarterback position. First we only hear his name dropped at the press conference, later on we get a couple of scenes from pass training and then see him throwing a Hail Mary-like touchdown pass in an already won game. That's how it usually starts, isn't it? That boy is able to hit a quarter from 50 yards away.
It's going to be hard for Saracen to fend him off, especially when neither we nor Matt really get a closer look into the kid's psyche and what he's made of. It seems it will take at least another week for him to get an actual speaking role on the show. Maybe then we'll be able to see if he's aggressive or a mama's boy. For the time being, he'll remain a mystery and it's not hard to guess that the press, as well as Buddy Garrity, will pressure Coach Taylor to make J.D. the starting Quarterback. With Buddy and the boosters totally in the pocket of J.D.'s father and Matt most likely getting more problems with the dementia of his grandmother, it might be just a matter of time.
But that isn't the only reason for friction between the Coach and Buddy Garrity. I have one word for you: Jumbotron (or two words, whatever). I guess we all instantly knew what Tami, in her new position as high school principal, was going to try with that booster money. Having to lay off teachers, unable to buy school supplies, the air-conditioning not working and without enough buses to get her students to school, this seemed to be a no-brainer. Especially since the football team has it all and more — including new, networked computers. We'll see who has the last laugh in this matter soon enough.
Tyra, meanwhile, has to face the fact that her mediocre performance in her freshman year forces her to average a 6.4 GPA this year to be able to apply to anything better than Dillon Tech. And of course that makes her dependent on Landry. Again. With them not being together anymore. Like it always was.
But of course first she has to try to throw it all away. Only when she sees her possible future in her sister and Riggins' brother marrying and getting kids in Dillon she tries to get her act together, not without being smug towards the vice-principal in the process. That girl just doesn't know what's good for her. It seems not even her very own murdered sexual predator can make her keep her head straight and stick with the intelligent, decent guy and her books. Oh wait, that never happened, right?
Finally we have Smash getting personal trainings with Coach Taylor. His knee seems to be in shape but he's still half a second slower in the 40 yard dash than before. Just like Lyla, the prospects make him throw his towel into the ring. Whether that squash-session at the end makes him re-focus or not we'll most likely discover next Friday.
Most likely that'll also be the day we witness how Riggins manages to ruin his relationship with Lyla, because that's just what he's best at, isn't it?
Photo Credit: NBC