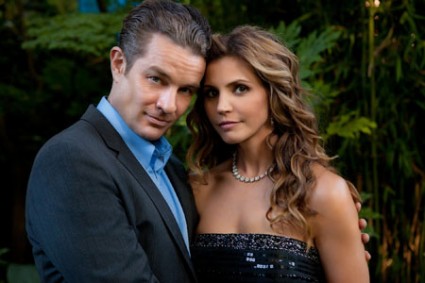 Debbie:
Sometimes life gets crazy and I have to go to my happy place … so in my mind, I travel to Sunnydale, and reminisce about the good ol' days of Buffy the Vampire Slayer. Definitely one of my all-time favorite shows, with some of my all-time favorite characters — one of which is Spike. It got me to thinking about James Marsters, who's been working very, very hard since the end of his stint as Spike on both Buffy and Angel.
Let's stick to his TV roles, though (which they mostly are) and discuss our favorites — what do you think is James Marster's best role since Spike?
Bob:
Well, it's sort of an easy answer for me, because I'm only really familiar with one of the roles, even though he has had quite a few recurring guest gigs. Luckily, the role in question is also one that I can highly endorse: Barnabas Greeley on Caprica.
The show was short-lived, and certainly didn't live up to its predecessor Battlestar Galactica, but I enjoyed it for the most part while it was on. Also, Barnabas happened to be involved in the more interesting side of the show. With his untimely death, though, we weren't due to get more of the character even if the show had continued.
So what's your favorite Marsters role?
Debbie:
The Caprica role was definitely one that came to mind, because he was so unlike Spike yet still so compelling. I was also pretty tickled to see that he did the voice for Mr. Fantastic in The Super Hero Squad Show. Yeah, I've got a seven-year old son but that show is hard not to adore — it's hilarious.
Even though I only saw the pilot of Hawaii Five-0 (great TV movie!), Marsters was great as Victor Hesse. But my favorite role — which I hope counts since it wasn't recurring — was Don Stark on Supernatural this past season. Seriously, I crossed my fingers through the rest of the season that he would be recurring and it never happened. I'm still waiting, because he played so brilliantly off Sam and Dean that I'm still wanting more.
You know Supernatural? That show that for some reason you refuse to watch but is one of the best examples of fun and characterization in the same package, and that if you think Community takes chances and sometimes hits and sometimes misses? Supernatural hits every time. I think I just digressed majorly. …
Bob:
You do realize that as good as Supernatural may be, every time you nag me about it makes me want to watch it less. I know it doesn't make sense, but that's the way it is.
As for Marsters, when is going to get his own gig? Yeah, he's been working hard getting a lot of guest spots (some recurring), but I would like to see him settle down into a show of his own. The fact that we're writing this post would indicate that he has the talent … and the fan base!
Debbie:
Well, his 50th birthday is coming up this summer with a big celebration — wouldn't his own series be a great present?
Photo Credit: The CW