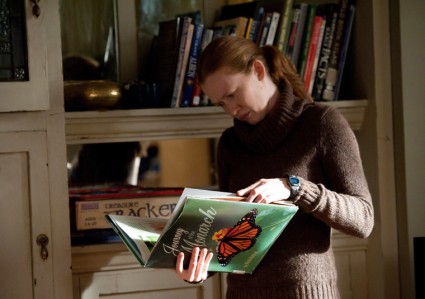 I initially came late to The Killing last season, after the first few episodes had already aired. Fellow TV critics had been absolutely gushing about this dark tale which, although it focused on a labyrinthine murder investigation where nothing was as it appeared, was not at all like the garden variety police procedurals on TV.
It had nuance and a deep darkness that remained with you, like a chill that's so intense that you can feel it down to your bones. It was a mystery that felt like an intellectual challenge in a TV drama populated by thoroughly human and flawed characters with complex backstories. Once I watched the pilot episode, I quickly marathoned all the other episodes that On Demand had available. When I was done, I decided I HAD to cover this show.
But The Killing of today is nothing like The Killing of the first season. Seven episodes into the second season, I'm done. I want to migrate away from it just like Linden said Rosie wanted to do from her family home, to be free. I feel as trapped by the nonsensical confines of the show as Rosie seemed to be at the Larsens'.
It has only been 20 days since Rosie was killed. Less than three weeks. It feels like an eternity. While I loved The Killing's glacial pace in season one, now I hate it. It has morphed into a big, pointless slog that has rendered me indifferent to the investigation's outcome. The more things progress, the more absurd they seem.
Why, for example, would the head of an Indian tribe have tribal police brutalize a Seattle police detective when not only could he ID her but, but she also manically used his cell phone to call his partner so she could hear the beating? If Holder dies, Nicole Jackson will have sanctioned murder and let Linden witness it by phone. If Holder survives, he can tell authorities that Jackson and her colleagues assaulted him.
But Jackson seemed utterly unafraid of getting held responsible for beating Holder like he was Bennet Ahmed, almost as though she was the head of an untouchable crime family. Even when I put Jackson and the casino into context, I can't come up with a reasonable explanation. Jackson is involved with Michael Ames' construction company and their dealings seem murky at best. Ames not only supports the mayor — who has a vested interest in city developments, but Ames was Terry's Beau Soleil client and is Rosie's ex-boyfriend's father. Rosie was supposedly an escort at the casino and filmed butterflies on the island.  Sure, Jackson doesn't want cops nosing around, but having a cop beaten, potentially to death while she watched seems bewildering. It makes me tired just trying to sort it all out.
Oh, and I'm guessing that I was supposed to immediately recognize the woman who was sitting outside Holder's apartment, watching Holder, Linden and Jack. But I didn't. When the camera pulled back into a wide shot to reveal Roberta Drays' face, it was meaningless to me. There was no, "Ooooh! That's who's stalking Linden!" I had to look at the AMC web site to learn that Drays' identity, that she's the Wapi Eagle Casino's security chief, then I had a vague recollection of seeing her last year.
Meanwhile Linden is starting to lose it, just like she did with some other case to which everybody keeps obliquely referring. She's racing Jack from place to place and acting paranoid. She even fled child protective services with Jack in tow. But I'm no longer interested in her antics, which is so disappointing because I wanted to be. I wanted to remain invested in a smart, tough single mom detective who fancies chunky sweaters and takes no crap from anybody. Her smarmy, oddball partner, I wanted to care about him too, as well as the members of the Richmond campaign and the Larsen family. (Mind you, all of my complaints add up to the conclusion that this is a failure of storytelling, not of acting. I think the actors are doing the best they can with their material.)
However I've given the show a fairly long leash and, considering all my other Sunday night viewing options, I'm writing this one off. Sorry to leave you Rosie. Hope they eventually find your killer.
Photo Credit: Carole Segal/AMC