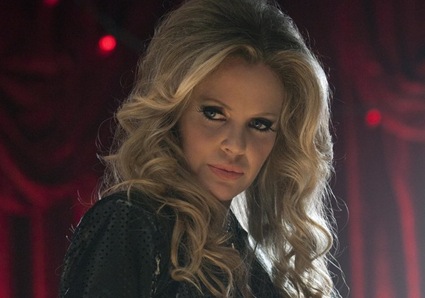 CABLE - It was another week of big premieres on cable, led by the return of True Blood (5.2m/2.9) on HBO. That's just a tenth off the 3.0 for last season's premiere episode. Burn Notice (3.87m/1.2) and Suits (3.47m/1.1) were the other returning premieres. On the series premiere front, TNT got a nice viewer number for the premiere of Dallas (6.86m/1.5), although the demo was a bit low. ABC Family was also in the game with the unfortunately titled Bunheads (1.64m/.6). I'd wager a better name could have helped that number. And for what it's worth, that premiere had the biggest shocker of any of them.
Basic

Longmire (4.1m/.9)
The Glades (2.9m/.8)
Mad Men (2.7m/1.2)
The Client List (2.19m/.8)
Drop Dead Diva (2.12m/.7)
The Killing (1.84m/.5)
Teen Wolf (1.76m/.7)
Secret Life of the American Teen (1.68m/.7)
Eureka (1.45m/.4)
Lost Girl (.92m/.4)
Rizzoli & Isles (5.13m/1)
Franklin & Bash (2.89m/.7)

Pretty Little Liars (2.66m/1.1)
Jane By Design (1.34m/.6)
Royal Pains (4.14m/1.1)
Necessary Roughness (2.67m/.8)
Melissa & Joey (1.11m/.5)
Workaholics (1.25m/.7)
Next Food Network Star (2.19m/.7)
Pawn Stars (5.61m/1.7)
Teen Mom (3.25m/1.8)
Deadliest Catch (2.66m/1.2)
Devils Ride (1.46m/.7)
Hollywood Treasure (.83m/.3)

Premium

Veep (1.08m/.6)
Girls (.87m/.5)
The Borgias (.62m/.2)
Nurse Jackie (.6m/.2)
The Big C (.5m/.2)
ABC - Thanks to the NBA Finals (16.2m/6.9 – 16.67m/7.1), ABC was able to upset NBC's apple cart. Countering with the NHL didn't help the peacock's prospects at all. The crazy success of the game does again make one wonder what it is that ABC sees in Jimmy Kimmel. His Game Night pre-shows were largely ignored (3.28m/1 – 2.91m/.9) The rest of the week was made up of a Goldilocksesque collection of reality programming.
Highwire Over Niagra (10.14m/2.5) seemed way too high. Duets (3.95m/1.1) seemed way too low. And the rest — Secret Millionaire (5.36m/1.5), Extreme Makeover Weight Loss (4.62m/1.5), The Bachelorette (7.43m/2.3), and Greatest Megastunts (5.71m/1.2) — were probably just right.
NBC - As mentioned, the Stanley Cup Finals (4.93m/2) paled in comparison to the NBA. America's Got Talent (11.18m/3) again led everything on the network, and it was actually going up against the NBA. Elsewhere, Ninja Warrior (4.99m/1.7) and Love In The Wild (4.82m/1.5) remain serviceable summer programming. And the pleasant surprise for the week was growth of 700,000 viewers for week two of Saving Hope (3.98m/.7).
FOX - To hammer this NBA/NHL point home just one last time… Hell's Kitchen and MasterChef looked a lot better facing the NHL on Monday (6.25m/2.8 – 5.95m/2.7) than they did facing the NBA on Tuesday (5.32m/2.2 – 4.83m/2.1). So You Think You Can Dance (6.71m/2.5) remained solid with the final round of regional auditions. And the Thursday duo of Take Me Out (2.64m/1.1) and The Choice (3.64m/1.6) remains a bit suspect.
CBS & CW – In the most unfortunate result of the week, the CBS broadcast of the Tony Awards (6.01m/1) didn't exactly come in at Oscar levels. I get that I'm in the great minority having been to over 100 shows already this year, but I'm still surprised that people haven't caught on to the fact that it is the best of the major awards shows. (Good lord, I sound like a hockey fan!) CBS also offered Dogs In The City (5.55m/1.1) while the CW had The Catalina (.55m/.2) and Breaking Pointe (.82m/.3).
Photo Credit: HBO