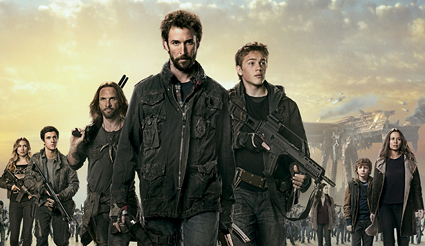 CABLE - TNT had the big premire of the week as they kicked off the second season of Falling Skies (4.46m/1.5). That is well off the premiere pace of season one (5.91m/2), but right on track with where most of the rest of season one finished. It also makes TNT the #1 scripted show for the network in the demo. Comedy Central was also in the game, premiering season 9 of Futurama (1.65m/.8 – 1.57m/.7). That's right where the show left off last fall.
Basic

Longmire (3.52m/.7)
The Client List (1.24m/1)
The Glades (2.53m/.6)
Drop Dead Diva (2.17m/.7)
The Killing (1.45m/.5)
Teen Wolf (1.69m/.7)
Secret Life Of The American Teen (1.68m/.8)
Bunheads (1.64m/.6)
Eureka (1.59m/.5)
Lost Girl (1.28m/.5)
Rizzoli & Isles (5.36m/1)
Franklin & Bash (2.95m/.7)

Pretty Little Liars (2.44m/1)
Jane By Design (1.3m/.5)
Dallas (4.76m/1.3)
Royal Pains (3.87m/1)
Necessary Roughness (3.01m/.8)
Suits (3.8m/1.2)
Burn Notice (4.09m/1.2)
Workaholics (1.46m/.8)
Pawn Stars (5.99m/2)
Storage Wars (4.59m/1.8)
Deadliest Catch (2.81m/1.3)
Food Network Star (2.23m/.7)

Premium

True Blood (4.42m/2.6)
Girls (1m/.5)
Nurse Jackie (.54m/.2)
The Borgias (.52m/.1)
The Big C (.45m/.2)
ABC - The NBA Finals were again the easy leader last week. Game 3 (15.55m/6.5), 4 (17.5m/7.4), and 5 (18.46m/7.6) all did good numbers for ABC. Unfortunately, they missed out on games 6 and 7 as the series ended early. But at least the good guys won, so they have that going for them, which is nice. Those big numbers didn't offer much help to  Jimmy Kimmel Game Night (3.52m/1.1 – 3.2m/1). Elsewhere, it was more of the same from The Bachelorette (7.04m/2.3) and Duets (4.19m/1.2).
NBC - The peacock answer to the NBA finals was the final round of the US Open (9.63m/2.2). That's not really much of a competition, but not a bad number considering that Tiger folded early and wasn't in contention. The best numbers again came from America's Got Talent (11.43m/2.9). Ninja Warrior (5.78m/2) and Love In The Wild (4.12m/1.3) were fairly steady while Saving Hope (2.69m/.5) took another tumble. The big unknown for the week was the Justin Bieber special (3.02m/.9), which ended up being a dud.
FOX - Another week of wall to wall reality brought expected results from Hell's Kitchen (5.65m/2.5 – 5.34m/2.2), MasterChef (5.48m/2.3 – 5.13m/2.1), and So You Think You Can Dance (6.76m/2.4). At the bottom of the list we again find Take Me Out (3.22m/1.2) and The Choice (4.15m/1.5). Although, it is worth mentioning that both made gains over the previous week.
CBS & CW - CBS again went with only Dogs In The City (4.95m/1.1) while the CW had The Catalina (.77m/.3) and Breaking Pointe (.84m/.3).
Photo Credit: TNT