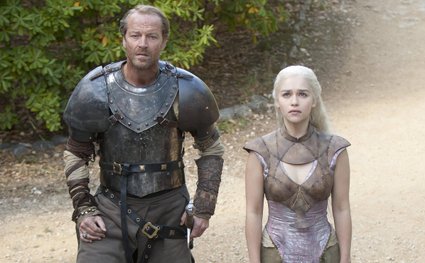 CABLE - With the broadcast networks on vacation, the floodgates have opened on cable. Last week saw nine premieres. That is, either new seasons or shows returning from breaks long enough that we'll call it a premiere anyway. Among those, the most interesting numbers come from A&E's latest, Longmire (4.15m/.8). With a full million more viewers than the premiere of The Glades (3.11m/.9), that's a good start.
Pairs of premieres were the thing, as USA brought Royal Pains (3.95m/1) and Necessary Roughness (3.02m/.8), TNT had Rizzoli & Isles (5.62m/1.2) and Franklin & Bash (3.07m/.9), and ABC Family kicked off Pretty Little Liars (2.93m/1.1) and Jane By Design (1.36m/.6). Lifetime was in the game as well with the premiere of Drop Dead Diva (2.3m/.8). In finale news, things look very good for the future of Game Of Thrones* (4.2m/2.2). That's solidly above where season two premiered (3.86m/2). The show is heading in the right direction.
*Unless GRRM takes so long to write the remaining books that the show has to shut down to wait on him.
Basic

Mad Men (2.41m/.8)
The Client List (2.1m/.8)
The Killing (1.67m/.5)
Eureka (1.97m/.6)
Teen Wolf (1.75m/.6)
Secret Life of the American Teen (1.43m/.6)
Lost Girl (1.35m/.5)
The Game (2.49m/1.3)
Let's Stay Together (1.97m/1)
Workaholics (1.51m/.9)

Hot In Cleveland (1.95m/.5)
Happily Divorced (1.4m/.4)
Melissa & Joey (1.08m/.5)
MTV Movie Awards (3.2m/1.4)
Food Network Star (2.43m/.7)
Pawn Stars (5.89m/1.9)
American Pickers (4.81m/1.4)
Outlaw Empires (.63m/.2)
Deadliest Catch (3.05m/1.4)
Devils Ride (1.45m/.8)

Premium

Veep (1.18m/.6)
Girls (1.09m/.6)
Nurse Jackie (.63m/.2)
The Big C (.59m/.2)
The Borgias (.57m/.2)
NBC - The peacock can't get anything done in the regular season, and next fall's schedule doesn't look to be changing that, but they are the head of the class so far in the summer. And with the Olympics in the offing, that's not likely to change. Leading the way again was America's Got Talent (12.22m/3.3 – 12.55m/3.5), with Ninja Warrior (6.78m/2.2) holding up well in its wake. NBC also got good summer mileage out of Adele Live In London (6.22m/1.7) and the 2012 Miss USA (6.29m/1.8). Unfortunately, it wasn't all rainbows and unicorn farts. The two lowest rated entries were the premieres of Love In The Wild (4.76m/1.6) and Saving Hope (3.24m/.7).
ABC - The network gets bonus points for scheduling new programming, but those bonus points don't always transfer to ratings. Despite the ten hours of new programming, only The Bachelorette (6.77m/2.2) could crack 2 in the demo. Secret Millionaire (4.66m/1.5) and Extreme Makeover Weight Loss (4.54m/1.5) got off to slow starts as Duets (5.27m/1.2) and Rookie Blue (5.51m/1.3) continued to settle. The Concert For The Queen (6.77m/1.3) wasn't much help either.
FOX - A quadruple shot of Gordon got the week off to a solid start with Hell's Kitchen (5.46m/2.4 – 4.87m/2.1) and MasterChef (5.1m/2.3 – 4.73m/2.2). So You Think You Can Dance (6.66m/2.5) followed, with a solid summer number. Then the week took a turn on Thursday with the premieres of Take Me Out (3.26m/1.3) and The Choice (4.36m/1.8).
CBS & CW - Repeats ruled on both networks, with CBS only offering Dogs In The City (5.15m/.9). The CW doubled that output with The Catalina (.65m/.3) and Breaking Pointe (.63m/.2).
Photo Credit: HBO