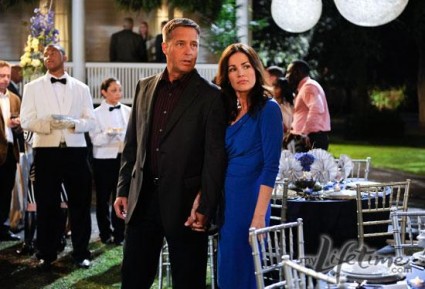 My wife posed a funny question while we were watching tonight's episode of Army Wives: is it possible that Gisela Wisniewski (Alyssa Preston) is the show's attempt at filling the redheaded void that Brigid Brannagh left when she set sail for California and a new life?
Now obviously that was a joke, but I think it's fair to wonder why Gisela seemed to play such a substantive role in what was otherwise a ridiculous story line. That's right, Roxy is back to being completely clueless and tone deaf when it comes to Army protocol. Are we really going back to that old chestnut? Shouldn't the expansion of Roxy's knowledge base roughly mirror Trevor's promotional progression, at least to the extent that she should be vaguely aware of what's going on now that he's a Second Lieutenant? Because if so I think someone forgot to clue Roxy in.
Of course that's not the only oldie but oldie that's being recycled in this sixth season of the show. We already had a redux of the hallucinations of a mother wishing her dead child was living in the present. Now we get to experience Claudia Joy pitted against yet another politically ambitious Army wife who suffocates her with kindness while plotting against Michael's career behind her back. Worse yet is that Kelli Williams was cast to play Jackie Clark, which means she'll probably be around for a while. If ever you grow complacent with Jackie's character, just remember psycho Lindsay Dole getting off on that murder charge. That should snap you back to reality.
What else have we seen before, you ask? Roland getting roped into a practice that he had no intention of becoming a part of (as in the practice he's currently running). Since there must be more than meets the eye, I'm kind of curious as to what we've yet to learn about Charlie (Ryan Michelle Bathe). One guess involves her making a play for Roland and their getting romantically involved … been there too!
In fact, the only character who didn't seem to be in a time warp tonight was Denise (she had the coma and hallucinations repeat two weeks ago). Not only that, but Denise might actually have a promising story unfolding for her this season. Here's how I see it: Jackie Clark seems to have identified Denise as her go-to gal on post, and Denise appears to have warmed to the opportunity rather quickly (as well she should). So is it possible that in the course of taking Jackie down Claudia Joy might cause a void on post that Denise naturally assumes? And if so, could that pose an unforeseen challenge to Claudia Joy's position of authority at Fort Marshall? Now obviously Frank's not about to bump Michael off, but could there be a power shift among the spouses without a parallel one among the military men?
I honestly don't know nearly enough about the Army to answer that question with any sort of authority, but if that is possible … wouldn't that be intriguing?
Photo Credit: Lifetime