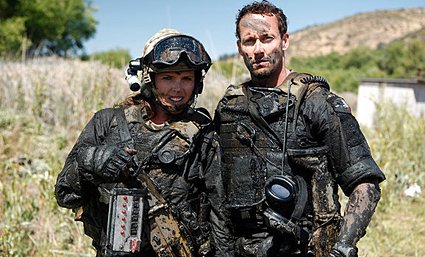 NBC - Not much. If you spent any time watching the London Olympics (closing ceremonies 31m/9.2), you probably noticed a couple things. First, how adorable my friend Sara was in that Autopass Card commercial… And second, how hard NBC was pushing their new and returning shows. They did manage to get impressive numbers for special airings of Go On (16.1m/5.6) and Animal Practice (12.8m/4.1). But then, both of those had huge Olympic audiences dropped on their heads, and the chances they'll hit half that again is pretty slim.
Unfortunately, the first results of the Olympic promotion after the games were Stars Earn Stripes (5.24m/1.7) and Grimm (5.64m/1.2). That's not so good. For perspective, that puts Stars Earn Stripes below last summer's premiere of Love In The Wild, which didn't have two weeks of Olympic promotion. Grimm actually looks ok when compared to its own Friday numbers. But if you were to measure it against an average Castle or 5-0 in that time slot… not so much.
It wasn't just Monday either. America's Got Talent (9.97m/2.8 – 8.48m/2.3) returned with no evident boost from the Olympics. It would seem that the Olympic promotion wasn't worth much, and that doesn't bode well for the coming season. The other new entry was Saving Hope (3.3m/.6), but I don't think it got any promotion anyway.
ABC - Another rough week as ABC closes out the summer. Wipeout (5.22m/1.6) led the way with none of the other entries able to attract five million viewers. That included the premiere of Time Machine Chefs (3.17m/1.1). The other new programming was Secret Millionaire (3.97m/1), Extreme Makeover Weight Loss (2.82m/.9), Bachelor Pad (4.01m/1.2), Glass House (1.87m/.7), NY Med (4.27m/1), and Rookie Blue (4.79m/1.1).
FOX - There was a little more to the FOX schedule this week, but nothing surprising. Asshole TV kicked off the week with Hell's Kitchen (6.58m/2.7), Hotel Hell (5.09m/2.1), and MasterChef (5.73m/2.4). Things closed out with So You Think You Can Dance (4.77m/1.8) narrowing the field to the top ten. We'll see if the addition of the All-Stars offers a bump next week.
CBS & CW - CBS was all Big Brother (5.36m/2 – 5.96m/2.1 – 6.13m/2.2) while things were picking up (kind of) on CW. Oh Sit premiered (1.23m/.5) as the number one show for the week, but did tumble a bit in its second outing (.85m/.3). The rest of the week was Remodeled (.41m/.1), LA Complex (.52m/.2), and The Next (.84m/.3).
CABLE -The big story on cable was the final episode of TNT's The Closer (9.1m/1.6). That's well ahead of where the season has been, and provided a good start for the premiere of the spin-off, Major Crimes (7.18m/1.2). In other spin-off news, Pawn Stars (4.84m/1.5) has elevated another of their experts to their own show with Counting Cars. The premiere (4.3m/1.4) following Pawn Stars looked good, but business slowed the next night when the show went solo (2.59m/1)
Basic

Longmire (4.34m/.8)
Falling Skies (3.46m/1.3)
The Glades (3.1m/.7)
Army Wives (2.97m/1.1)
Breaking Bad (2.48m/1.3)
Hell On Wheels (2.45m/.6)
Drop Dead Diva (2.36m/.9)
Leverage (2.32m/.6)
Political Animals (1.98m/.5)
Teen Wolf (1.71m/.8)
Warehouse 13 (1.56m/.5)
Bunheads (1.13m/.5)
Secret Life Of The American Teen (1.06m/.5)
Alphas (.99m/.4)
Rizzoli & Isles (6.04m/1.3)
Covert Affairs (3.25m/.9)

White Collar (2.93m/.9)
Franklin & Bash (2.82m/.9)
Pretty Little Liars (2.27m/1)
Royal Pains (3.95m/1)
Necessary Roughness (2.49m/.7)
Burn Notice (4.36m/1.2)
Suits (4m/1.4)
Good Luck Charlie (3.72m/.6)
Melissa & Joey (1.63m/.6)
Futurama (1.18m/.6)
Sullivan & Son (2.43m/.9)
Anger Management (2.05m/.9)
Awkward (1.95m/.9)
Wilfred (1.05m/.5)
Louie (.84m/.4)
Project Runway (2.43m/.9)

Premium

True Blood (4.49m/2.6)
The Newsroom (1.84m/.8)
Weeds (.56m/.3)
Episodes (.34m/.2)
Photo Credit: NBC