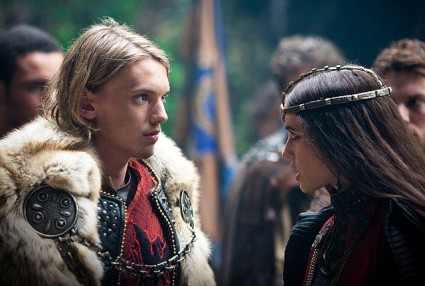 I asked a few people this week if they planned on watching Camelot and each of them said, "Is that the show about the Kennedy's?" and I responded, "Umm … no. It is about King Arthur." The good thing for the Kennedy's mini-series is that people seem to know that it is starting this weekend, for Camelot – people  haven't heard about it.
I thought I knew the story of the King Arthur, but after watching the first two episodes of Camelot, I'm not so sure. It could be that I have always read or seen the "kid" version of the story, because this Starz version is anything but a kids' version. I was quite surprised by the sex in the first episode.
I've eagerly anticipating this show, because I have always been a fan of the King Arthur lore. Fellow clacker, Ruby also watched the premiere and was kind enough to provide another view on the new series. Here are some of our thoughts:
Arthur (Jamie Campbell Bower):
Carla – My first reaction was that Bower wasn't up to being Arthur. He appeared very meek and just not very "Arthur-like." But, in the scene when Morgan comes to Camelot the second time and challenges him, Bower sold himself as Arthur to me. He was supposed to come across as meek. In that scene, he first looks ominously around, not quite sure what to do, but then he steps up with authority and proclaims his right to the throne. In that moment, I was sold.
Ruby – I don't like the actor who plays Arthur. He should be playing bass guitar in a band in somebody's garage — not leading Britain into a new order of honor, peace, justice and all that good stuff. If this were Camelot Idol, I'd vote for his brother Kai. He'll probably grow on me too, if I keep watching, but my first impression was not good. Maybe I am subconsciously comparing him to Bradley James (from Merlin), although I tried to make a point of not doing that.
Morgan (Eva Green):
Ruby – Eva Green is a bit overdramatic, but she's growing on me. I guess the whole show is overdramatic though, with all the slo-mo and the LOTR-esque score.
Carla – I agree, she definitely was overdramatic, but by the end of the premiere it seemed to really fit her character and the show. I have a feeling we will be seeing her often without clothes, which I don't necessarily mind as long as it doesn't become overplayed.
Merlin (Joseph Fiennes):
Carla - Fiennes was unlike any Merlin I have seen, but I liked it. The sorcerer powers were discretely played and much better suiting him than his role on FlashForward (though there was a line about fate in the first episode that made me think of FlashForward and smile a bit.)
Ruby – I'm not sure I buy Fiennes as Merlin yet — the character is fascinating though. There's something very sneaky about him.
King Lot (James Purefoy):
Ruby – I've always been a James Purefoy fan, and as usual he dominates his scenes with that overabundance of manly magnetism. I'm so bummed that Lot was killed at the end of the second episode, because he was what I liked best about the Camelot pilot episodes.
Carla – I couldn't agree more. When he was on screen he stole the show and I think that is why Arthur originally appeared weaker than he probably should have looked. I was initially disappointed that he was killed so early in the series. I realized during my second viewing that while I will miss James Purefoy on screen, the story needs to be about Morgan and Arthur and he just got in the way of that.
Other thoughts from Ruby:
I liked their take on the sword in the stone as Merlin's ploy not just to get the people to believe in Arthur but to get Arthur to believe in himself. Clever Merlin. Camelot seems to be sticking close to the legends but throwing in a few twists to keep it interesting. Another thing I liked was Kai and Arthur having such a warm relationship instead of being rivals. And yet another twist — Guinevere is already engaged to Arthur's champion (whom I presume is Lancelot), so I guess Arthur is going to be the "other man" instead of the cuckold.
The cinematography is beautiful. I've been to most of the Arthurian sites, and the scenery in Camelot definitely takes me right back. Camelot itself reminded me of my visit to Tintagel, with its massive cliffs and 100-mph winds.
The pilot suffers from too much backstory/exposition and a few headscratching plot holes — for example, how did Lot's son know Arthur's name? Why does he attack Arthur? Why was Lot's son out there alone in the first place? Why are people allowed to just ride into castles without even giving their names? No guards? No secret passwords? Why did Morgan let Igraine go? Why did Arthur name his grey-haired father champion, when Kai would be a better choice to battle Lot?
Other thoughts from Carla:
I'm not sure about the shapeshifting. On my first watch, I didn't realize that Morgan shapeshifted into a younger girl to poison her father, I just thought it was her since I'm not familiar with the actress. And, was King Uther actually the biological father of Arthur? It seemed like he was, but how that shapeshifting worked wasn't very clear to me.
Guinevere is engaged to Leontes, so I guess we know why the scene with Arthur sleeping with his brother's girl was in the beginning. He has no qualms of taking another's woman — even his brother's — so why not Leontes?
The killing of Arthur's mother was heartbreaking. I didn't think anything could be more heartbreaking, but the way his father died walking through the spear in order to stab King Lot was … I don't have words to describe it. I think my heart actually stopped for a minute at what pain he had to have gone through to protect his son.
Did you watch the premiere? What do you think of this version of Camelot, did you enjoy it enough to continue watching? We'd love to hear your thoughts in the comments!
Photo Credit: Starz