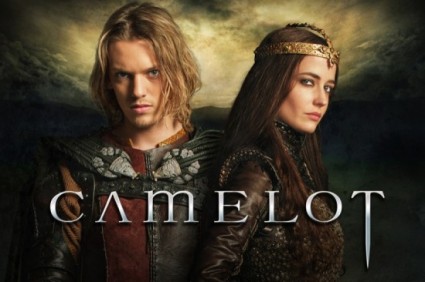 I've been known to be a fan of period pieces as done by the premium cable channels. HBO does it best: Boardwalk Empire is perfect, while Rome was one of the most interesting stories I've ever seen. Plus it introduced me to Kevin McKidd! That said, John Adams? How did no one ever talk about how slanted the floors must have been back in those days?
Over on Showtime there was The Tudors. A big fan for the first two seasons, I quickly lost interest around the time that the series learned its days were numbered and the quality started slipping. Nevertheless, Jonathan Rhys Meyers was amazing, and I was glad that Callum Blue (Dead Like Me) had found a place to land.
Anyway, it was my interest in history, coupled with premium cable's solid track record, that caused Starz's Camelot to initially catch my eye. So why did I let the premiere pass me by? I'm not really sure … but I decided to see what I've been missing.
The basic story of Camelot, i.e. King Arthur's days as king, is fairly well known. Knights of the Round Table, Queen Guinevere and Sir Lancelot, Merlin … most of us are up on the broad strokes. Would that enhance or detract from the experience?
I caught episode seven, "The Long Night," which took place in Morgan's (Eva Green) castle, Pendragon. I loved the parts of the episode that focused on Arthur (Jamie Campbell Bower) and his boys. The King is a bit too naive, but Merlin is Joseph Fiennes at his best — 100 times better than Fiennes in FlashForward — while Gawain (Clive Standen), Leontes (Philip Winchester), Kay (Peter Mooney), et al, reminded me of some of the best parts of The Tudors: Henry hanging out with his friends, trying to find his feet as a leader.
In fact, Camelot mixes the best parts of shows like Rome and The Tudors with the worst. Rome was never better than when Lucius (McKidd) and Titus (Ray Stevenson) were getting into trouble, while The Tudors did its best when Henry tried to make his mark on the world, at times making peace and others war with Spain and France. And much of the blatant sexual nature of Camelot reminded me of Mark Antony (James Purefoy) and Cleopatra's (Lyndsey Marshal) time together. Man do I miss Rome.
But where I found Camelot to be less interesting was when it slipped into scheming — and romance — mode. I understand that these shows won't succeed without 1) intrigue, and 2) couplings, but what I love about tales of Arthur is in books like King Arthur and his Knights of the Round Table, by Roger Lancelyn Green, as opposed to things you can get on your basic soap opera. Arthur shines with tales of adventure and bravery … I even find the sorcery of Merlin to be a bit too much for me. So palace intrigue is really one of the last things I'm looking for from the great king.
By the way, not to repeat myself but Fiennes is really great here. It's the finest work I've ever seen him do, and for the most part he stuck to being exactly the consigliere that I think he's meant to be, as opposed to some magical being. As an aside, his relationship with Queen Igraine (Claire Forlani, who's also great here) is exactly why Merlin and Arthur can't be contemporaries as suggested by some other versions of their story.
Anyway, I'm glad I checked Camelot out, but I found it to be too much like The Tudors at the time that I decided to quit the latter show. If the creative team decides to focus more on the boys, I'd probably be back. But with Morgan using sorcery to make herself look like her mother — what's with the nun? — the show's not for me. But for those who are watching, I hope you're enjoying!
Photo Credit: Starz