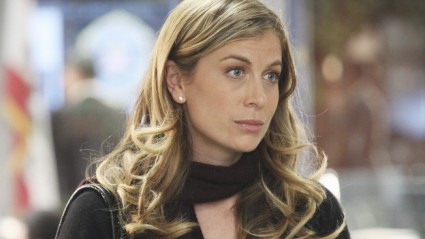 Well, the finale of FlashForward certainly didn't feel like it was a series finale, did it? I wasn't sure if they were going to have a chance to force some sort of ending on it after it was cancelled. Turns out they didn't. With the ratings as bad as they were, I can't imagine that ABC wanted to drop any more money into the show. After tonight's episode, though, even with the cliffhanger ending, I'm just not that disappointed that FlashForward won't be coming back. I know it had its fans, and for all of you, I am sorry. This show had the potential to be great. It certainly had one of the greatest pilots that I have ever seen. It just never lived up to that potential, though.
The finale wasn't a terrible episode by any means (not like last week). As much as I hate Mark, I have to admit that it was a little fun watching him kick some ass inside the FBI building. At the end of the day, though, everything felt a little predictable. Maybe that's because just about everything that we saw play out was previewed in the very first episode. Sure, there were small changes, but if you ask me they all seemed a wee bit trivial. So Janis is having a boy instead of a girl and Olivia and Lloyd are just making out instead of sleeping with each other. So what? The fact is that nothing really changed.
Heck, Simon and Demetri couldn't even stop the second blackout from happening. Didn't we all sort of see another blackout coming? Aside from the fact that there were images of Joseph Fiennes saying, "there's gonna be another blackout" running on ABC for what seemed like months, I'm not sure how the show was going to function without people whining about their future. Seriously, though, season two looked like it might be interesting, with the second blackout flashing forward a lot further than just a few months. Alas, we'll never get to see what a second season may have been.
There were certainly a lot of story lines left floating. The real motivations and story behind the organization causing the blackouts was never really clear. With Frost's big map that we saw earlier in the season, I would guess that they were trying to prevent the end of the world by seeing how it happened. We'll never know.
Are you sad to see FlashForward go? What did you think of the finale?
Photo Credit: ABC