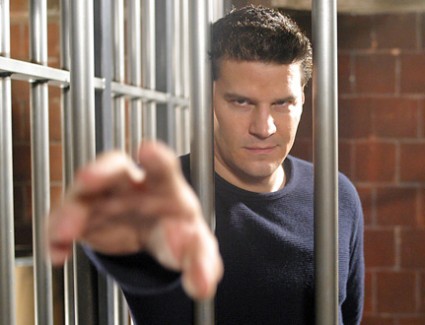 As I was writing about The Vampire Diaries last week and comparing Stefan on human blood to Buffy's Angelus (no contest), I got to thinking about David Boreanaz. He will always be Angel to me, even though his character on Bones, Seely Booth, is very popular and likable and going five seasons strong. Angel was a one-of-a-kind character, a modern day Jekyll and Hyde with fangs who was ready and willing to save the world, no matter what it took.
But when all is said and done, will David Boreanaz be best known for his portrayal of the vampire with a soul, or the FBI agent with a heart (and really cool socks)? On the one hand, Angel's got a cult following that can't be matched by the likes of Booth, but since Booth is more mainstream, maybe the audience will speak.
We can't possibly know how the TV viewing universe weighs in on this issue, but we do know how the writers on CliqueClack's staff feel about it. When I asked the question, Angel or Booth, our opinionated writers chimed in:
BRETT: As Angel. Because long after both shows have ended, those are the fans that are going to be tracking him. To put it simply, there is no community centered at a website called Hansonesque. [Preach it, Brett!]
RICH: I think for Bones, just because he's more approachable as a character in that series. [Approachable doesn't necessarily equal memorable….]
BOB: I think Brett has a good point. [Yep!]
I would agree that Angel is the more memorable character. He spanned two separate shows, and carried one all by himself. What would Booth be without Bones?
While Bones is one of the only procedurals I'll watch (even though it's been a few years), I feel like a serial is going to beat a procedural almost every time when it comes to character. Just by the nature of the storytelling, there is a lot more growth and change in a serial for the characters.
RICH: But Bones isn't just a procedural like SVU. The character development is much deeper. Yes, they follow the usual pattern of murder-suspects-questioning-reveal, but it's really secondary to the interactions of the characters. Or, rather, it helps move the characters' stories along.
And, let's remember that Angel was never alone in either Buffy or his own series. He had a lot of characters to work with on both shows. Would it have been the same if it had just been a series about a lone, mopey vampire with a soul who travels America righting wrongs? I have no idea. [I would argue that the show wouldn't have been the same, but the character would have only been slightly different.]
The final thing to consider is who is watching Bones right now. You have folks who jumped into the show without knowing anything about the Buffyverse. But you also have a whole bunch of fans from that world who wanted to see how David did in his new role. Those fans, while still loving Angel, are getting used to the character David plays now.
Hmmmm … who has the best point? Three of us Whedon cultists have weighed in on the side of Angel, while Rich makes a strong (but wrong, really, really wrong) argument on Booth's behalf. Weigh in with your thoughts in the poll and the comments.
Photo Credit: Justin Lubin/The WB