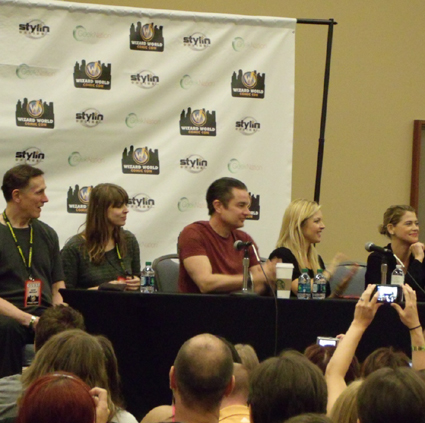 Pictured above from right to left: Kristy Swanson, Clare Kramer, James Marsters, Amber Benson, Mark Metcalf
I'm glad I didn't skip the 20th anniversary reunion of the Buffy: Vampire Slayer TV (Buffy:TVS) and film cast, including  Kristy Swanson, who originated the Buffy role; Mark Metcalf, the TV slayer's "Master"-ful, original nemesis; James Marsters, who needs no introduction; Clare Kramer, who played the dual-personality vainglorious goddess Glory; and, of course, Amber Benson, aka Tara, the mother to all in mama Joyce's absence.
I remember what a big name Kristy Swanson cut back in the 90s. I expected her to command more of an A-list diva aura, but instead she appeared shy and unassuming, frequently deferring answering questions to the Buffy TV cast. Similarly, the entire panel appeared drama-free and incredibly natural. It felt odd watching Mark and James in t-shirts, casually discusing their memories. Considering their Buffy fame, Kristy's fandom, and James' current success, the entire cast appeared incredibly down-to-earth while ruminating on their memories.
Throughout the series, I never warmed up to certain characters because writing-wise they never felt well-defined; including Glory, Spike and Tara. Surprisingly, the panel confirmed my suspicions, when the cast revealed Joss' original plans for their characters. When Clare auditioned, Joss hadn't fully fleshed out the Glory character. She didn't have a name or framework; so Clare played it "crazy." Likewise, Joss meant to kill Spike off after five episodes, but continued his lifespan because of fan demand. I never felt James fully fit into Spike's skin until the final season and, now, I know why. After trying to kill Spike off episode by episode, Joss finally embraced the badass and let him be. Additionally, while I didn't quite warm up to Tara's delicate nature, I loved her motherly traits and bawled like a baby when she died. Surprisingly, Joss wanted someone who looked even MORE fragile than Amber for the role and Marti Nixon fought to cast her.
Because Spike and Tara didn't feel well-defined, I let that bleed over into my estimation of the actors. But, I quickly revised my opinion during the panel. Both James Marsters' intelligence and Amber Benson's self-aware strength impressed me. I didn't know that James attended Juilliard's Pacific Conservatory or trained under the American Conservatory Theatre. Now I do. During the first season, I always got the hungry, first-time screen actor feel off of James and now I know why. After years of theatre work, he primarily moved to LA from Seattle to support his family, even when his only known screen credit came from Northern Exposure. He called Buffy artistically harder than Angel, and, like Paul Wesley, preferred playing evil Spike to multi-emotional "good" Spike. He admitted that Joss worked with him to tone down his acting to the naturalistic awesomeness of the final season. I doubly love that his theatre pride made him turn down taking Spike's leather jacket when production ended, although he took the Calvin Klein t-shirt that made his "boobs" look awesome. And, yes, people, James Marsters is hella pumped in real life.
Amber Benson similarly impressed me. Unlike Tara, who appeared fragile on top but strong underneath, Amber appeared strong to the core. She declared her pride in portraying one of the first realistically written lesbian couples on TV which made the show less entertainment-focused and more like social commentary. Many an academic paper testifies to Buffy's social awareness. Despite her initial disappointment that Tara and Willow didn't have numerous kissing/lovemaking scenes, a crewmember reminded her that being gay isn't about sex, it's about love, the relationship and feelings for each other. I can't say enough praise about Amber. I triply love that she didn't dress up like the stereotypical Hollywood actress. Instead, she rocked a t-shirt, jeans, snakers and carried a backpack.
I always loved Metcalf's Master because he was Voldemort, before Voldemort. He's the one villainous character who always felt rock solid to me and I would call the ultimate vampire. Interestingly, the casting staff only brought Mark in because they didn't know what Joss wanted, and felt certain it wasn't someone quirky and ironic like Metcalf. Turns out they were wrong. Joss bonded with Metcalf's humor and brought him on board. Metcalf is just what I expected, a down to earth, brutally intelligent, deliciously sarcastic character actor who no longer worries what people say about him (or what he says). When unable to use the restroom while dressed in the Master's nails, he required a PA's assistance. He cheekily called it "good times." Labeling himself "Master: The Buffy Slayer," he prides himself as the only character who killed Buffy twice, even though the "bitch" kept coming back.
The rest of the cast shared their funniest Buffy:TVS memories which included Glory's dress falling down during a fight scene (Chris Hemsworth mentioned the same thing happening during Avengers) as well as both Amber and James accidentally walking into the same column during the musical (but Joss kept James' in).
Although Kristy graciously allowed the Buffy:The Vampire Slayer Series members take center stage, she also shared  her filmic Buffy memories. In the original movie, the producers cast Luke Perry first who recommended Kristy who then underwent seven auditions before winning the role. While some call the original film the best and worst version of Buffy,  some of the production crew shared the second opinion. Kristy joked about a grip wearing a "Buffy 2: Just say no" button which freaked out the director.
During the panel, each actor shared their favorite death and TV memories. For Amber and James, Joss seemed particularly excited about their deaths (i.e. Amber's shooting and James' burning). But James pointed out he started off dead and prepared for death after each episode when Joss frequently (and humorously) threatened him with stakings (despite fan approval). Amber remembers Joss hating people calling him brilliant because of his humorous dialogue and deliberately set out to create a text-less text to prove them wrong with "Hush." Amber called it the most difficult because Joss literally blocked out the motions for each scene.
Best piece of acting\directing advice they received included cast well, don't act, and let Shakespeare do the work.
Check out our other Philly Comic Con coverage  here, including Paul Wesley, Chris Hemsworth and more.
For video footage, click here or see below.
Photo Credit: A. Nichoson