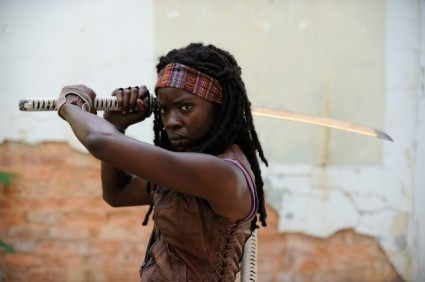 Bob:
It's not a secret that six of our fellow clackers are out in San Diego con'ing it up with a crapton of other nerds. While I don't completely envy them (that many people in one building freaks me out), there are definitely some cool things that I would love to see and look forward to hearing about.
Being a huge fan of Game of Thrones, I'm very curious to see if any news comes out of the panel. I know last year the expectations were high, but we didn't actually get any casting announcements. This year my expectations are a little more tempered, but I'm still hoping for something juicy. Plus, there are going to be many interviews with George R. R. Martin floating around. Hopefully he'll have some good news about the progress of the next book. At this point, I would just be excited if it takes less than the six years the last one took.
Elsewhere, I'll be excited to see about all things Walking Dead. Issue 100 of the comic just came out Wednesday (and I think it has scarred me for life) and I'm sure there will be a fun panel for the show. I got all geeked-out after the marathon weekend and special episode of Talking Dead that featured a sneak peek of season three. Is it October yet?
Debbie:
I'm pretty sure I'm not missing anything. The weather here is beautiful, so I'm not envious of the San Diego sun (not that the con-ers are enjoying that anyway, stuck in the airless convention hall). There are not hundreds of thousands of people in my peaceful, germ-free family room right now, so I don't have to share my Dark Chocolate Dreams peanut butter that I'm slathering on pretzels. That's infinitely better than fat old smelly people in super hero costumes (no, I don't mean Keith …). Staying home with the seven-year-old is not the short end of the stick.
But if I have to play the game, I'd love to be in the Firefly 10th anniversary reunion pressroom. We sort of covered that already, though. I guess to be in the Supernatural pressroom would be interesting, because I would love it for all the old reasons, but I'd also love to get a sense of how the cast felt about season seven, the weakest by far, and find out what the new showrunner and the writers are planning on doing to remedy things in season eight. I too, look forward to October!
Bob:
I don't know, Deb, that's a whole lot of negativity out of you. Do I detect some sour grapes?
There's also the Buffy 20th Anniversary panel, which might be interesting (It's a very Joss convention). Before you start doing the math in your head, don't forget about the movie. It's easy to forget about after the far superior TV show.
There are other great shows at the Con (not to mention the, you know, comic books). With Breaking Bad starting this Sunday I'm sure that will be an interesting panel with a lot of talk about the end of the series.
Debbie:
Not negativity, just embracing the slightly quieter household for five days and relishing in the lack of stimulation … and my chocolate.
I had done the Buffy panel math weeks ago, Bob; that was, like, so yesterday. It also took Keith a little bit to convince me that Kristy Swanson and Alicia Silverstone were not the same person, and that only one of them played Buffy in the movie, but I'm still not sure he's right. …
Photo Credit: Gene Page/AMC