What does David Simon (The Wire) expect us to do with Treme (pronounced treh-MAY),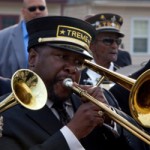 anyway?
Are we supposed to plant ourselves comfortably on our couches and easy chairs and get with the program right from the get go? Does he really expect us to take in the urban decay of New Orleans just as it's presented, never mind the fact most of us don't even know the place … let alone having eaten dirty rice before?
One thing is for certain:  The opening episode of this ambitious series is a creole feast.  Antoine Batiste and Albert Lambreaux (Wendell Pierce and Clarke Peters, respectively, both veterans of The Wire) are offered as characters we're supposed to get involved with right away.  Antoine is a fast-talking, laid back father and musician (and a pretty good musician at that); Albert a wizened, determined patriarch who longs to be home again in his old neighborhood, kids in tow.  Seeing Antoine talking up his friends and associates in varying degrees, you have to wonder where his story will lead.  And Albert, he's got kids who are in two different states of mind — neither of of them on par with their father.  His tale will be just as intriguing.
We're given pain-in-the-ass radio DJ Davis McAlary (Steve Zahn) who is as comical as a know-it-all as he is annoying in his opportunistic out-for-himself attitude.  The world owes this slacker a favor and he'll make it known to everyone who crosses his path that's the way it's going to be.
There's a really interesting dynamic in the husband and wife duo of Toni and Creighton Bernette (Melissa Leo, Homicide: Life On The Street and John Goodman, O Brother, Where Art Thou, et al).  She's an attorney making waves on the hurricane ravaged streets; he is an authority on how the government is continuing to undermine everything left since Hurricane Katrina hit The Big Easy.
In everything, there is New Orleans itself, riddled with decay and water lines six feet up on living room walls and debris and poverty.  Tying everything together is the music … neatly intertwining one segment into the next, from a downtown gig Antoine plays at contentedly to the mournfulness of the ending funeral sequence he snags as a gig.
And there's plenty more.  Antione's barkeep ex-wife, on a mission to find her brother lost during Katrina.  McAlary's sometime girlfriend, struggling in the aftermath of Katrina's devastation to keep some class in her little neck of the woods in the form of an eatery.  Not to mention some of the celebrity artists that make appearances in this episode: Elvis Costello and local jazz trumpeter Kermit Ruffins.  (Certainly, more recognizables will be showing their faces as the series progresses.
So … really?  This is what David Simon expects us to get into?
You better believe it, Bobo.  Right down the the ominous sounding helicopters you never see hovering about the neighborhoods.  If you long to get to the home of Mardi Gras and munch a beignet while sipping a Café au lait, Sunday nights for the next nine weeks will be the place you need to visit.  (Jot down the lingo you don't understand while you're at it … half the fun will be figuring out what it is these characters are talking about.)
Let Treme's characters take you deep into the humidity and sound of the streets, decayed though they may be….
Photo Credit: HBO