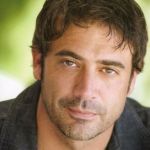 In my Grey's Anatomy review last week, I was lamenting the fact that Denny Duquette was still hanging around torturing Izzie and preventing her from moving on with her life. At this point, it's hard to tell whether it's truly his ghost or just something Izzie conjured up to unconsciously keep herself from moving forward. She seems like she wants to move on, but does she really?
Along those lines, though, I started thinking about all the dead guys that Jeffrey Dean Morgan has played. I'm starting to think there's a clause in his contracts stipulating that he only play dead guys. Let's think about it here:
Grey's Anatomy. Of course, this is the big one at the moment, because how long has Denny been dead? And yet he continues to haunt Izzie, either by his own volition or by something she's dreaming up. Either way, he's still dead. Move on, Denny.
Weeds. He plays Nancy Botwin's dead husband, Judah, and boy, did he leave her in a mess o' trouble. Of course, Jeffrey still gets to collect a paycheck now and then via flashbacks and dream sequences. Breaks my heart for Nancy and, well, Mary-Louise Parker is God's gift to premium cable TV.
Supernatural. Morgan plays the dead father, John Winchester, on this show. Others who are more in-the-know can chime in here. Does his character keep recurring?
Watchmen. Depending on how closely this feature film follows the graphic novel, Morgan's character, Edward Blake/The Comedian, will likely end up dying and becoming the catalyst for the storyline. Again, could use some help on this one.

Then there are those shows and movies in which even if he didn't actually play a dead guy, the projects themselves had associations to dead people:
Angel. Morgan played the character of Sam Ryan in one episode in 2002. The show was about a vampire who moves to L.A. and helps people with supernatural-related problems.
Tru Calling. He played the character of Jeffrey Pine in one episode in 2004. This show was about a university graduate working in the city morgue who's able to repeat the same day over again to prevent murders and other disasters.
And just for the names alone, we'll include movie projects like 1999's Road Kill, 2004's Dead & Breakfast, and 2005's Chasing Ghosts. And by association, we'll also include 2007's P.S. I Love You, where Morgan plays the childhood friend of a guy who dies and leaves his wife instructions for the year ahead. In a wild venture off his dead path, Morgan played Rick in a 2007 movie called Live!
What else did I miss? And thanks to The School of Jeffrey Dean Morgan for creating such a great Web site devoted to all things JDM!
Photo Credit: IMDB.com