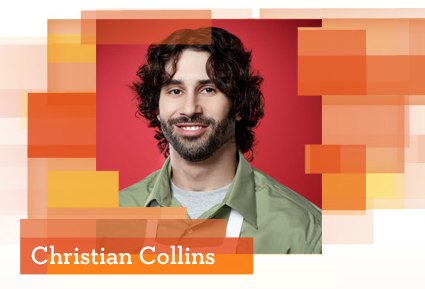 KM: You told me before the last episode ended that you thought the person going home was Frank. What was that?
CC: I had a pretty good feeling; I pretty much knew from the way they showed it. If you didn't pick Frank [to go] … how could you not. Both of his losing soufflés were not good. That was a tough challenge. Three in an hour? There's no room for error. And that's obviously why we didn't see three perfect soufflés from either of them. And any of the judges would have had a hard time doing that.
KM: So what's the order of how the final three will topple down?
CC: Man, I don't know. It really could be anybody's game. Any one of them could do it, but who knows what they could throw at them. I mean, you fuck up a sauce or something … it could be anything that makes them go home.
When it was the top five I was thinking it'd be Becky and Christine in the end. But I dunno, Becky's won so much so … she might get up too high where she can fall.
KM: When you were on the show, was there ever a situation where the producers or whoever had to say, "Cut! We have to stop …" and do something over again?
CC: No, it was always continuous. Watching the finals has brought back a lot of memories. And then they did duck, and I was thinking of me and Suzy [Singh], and I was like,oh man, they gotta do that right. That was intense having all three of those big guys coming in [the previous week] to judge them. That was a tough one, too, because we never had to make an appetizer, entree and dessert. That was almost like a finals throw-down.
KM: Do you think that's what they'll need to do again in the final episodes?
CC: Well that's what they've done for the past couple of years, so it was almost like this was good training for them. Like this is what it's going to come down to again in the end.
KM: What did you think of the episode where they had to switch what they picked from the kitchen with the person in front of them?
CC: Dude, they've thrown some real curveballs this season. I mean, when they brought Josh back? No way. I would've been the one pissing and moaning pretty hard about that one. I felt that was pretty unfair. You already made it to the top six — why does he get another chance?
KM: Yeah and now he's in the top three!
CC: Yeah. You know David Martinez is pretty pissed off right about now. He would've been there!
KM: So there's the top three now, so how much time between this past episode and the next is there for downtime for them?
CC: For them it's pretty much the next day. They go quick and want to wrap it up. That crew works hard, man. We show up at 9 AM and the setup crew's been there since six. They just want to get the hell out of there. During the last days of filming they're already breaking down parts of the set you don't see, like outside. Already packing trucks. In the top three all the benches (stations) but three are already packed up, remember from last season?
KM: Is that pantry is as impressive looking as it appears on TV?
CC: Yeah. It was amazing. We were there for so long but every time we went in there, ever ingredient was fresh. Top notch quality. There's someone going through that pantry daily, making sure there's no rotten veggies or whatever. There were things in there you don't even find in the grocery store. And what's funny is we'd go into those interviews you see on the show, and all that food in back of us is fake.
KM: So there's another Mass resident this season, Anna Rossi, and her husband was in an earlier round. Have you been in touch with them at all?
CC: Yeah, I went to a premiere party at their place. David Miller and Tony Carbone from season one were there, in Boston. The season was already wrapped, over the winder I imagine. Some people were like, "Do you want to know who won?" And I didn't want to know who won! I wanted to watch the show!
KM: OK, so final word before the finale?
CC: Definitely Christine will be in the final two. That's a given at this point. How did she do that with that sashimi dish? I mean, is this a joke? Come on. It almost looked identical to the original. I think she has a certain level of confidence to her that others don't have because she can't see. Not really being able to run around like crazy can be an advantage I guess.
The second-to-last episode of MasterChef airs tonight, with the finale next week.
Photo Credit: FOX