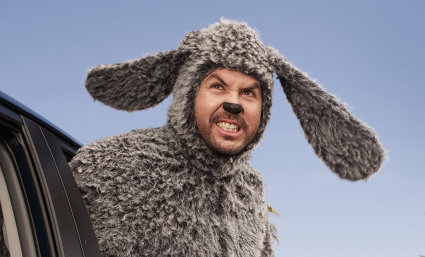 NBC - There really isn't much to say about it. As expected, the Olympic Games did huge numbers for NBC while the rest of the networks mostly ran for cover. To give an idea of just how huge the numbers were, here are the final results from Sunday through Thursday last week.
Sunday – 36.1m/11.6
Monday –  31.58m/10.6
Tuesday – 38.7m/12.8
Wednesday – 30.8m/9.9
Thursday – 36.8m/11.9
The really interesting part of all of those numbers will come in a few weeks when we start to see whether all of that bonus promotion for the new fall schedule has paid off.
ABC - It was the one network that actually tried to schedule against the Olympics. Although, it doesn't look like it was such a good idea. Wipeout (3.85m/1.4) was the big winner for the week (winner being used in the quite relative sense). And Bachelor Pad (3.46m/1.1) was the only other new programming that cracked a 1 in the demo. The rest of the schedule was The Glass House (1.6m/.6), NY Med (2.8m/.6), and Final Witness (2.56m/.7).
CBS / FOX / CW – CBS ran the usual Big Brother (5.1m/1.9 – 5.4m/2 – 5.5m/2) set. The good news was that the show really didn't lose much against the games. FOX took the whole week off. And CW had a new LA Complex (.44m/.1).
CABLE - Olympic coverage knocked around a few of the cable shows as well. Perhaps most notably was the FX Thursday comedy lineup of Anger Management (1.58m/.7), Wilfred (.83m/.4), and Louie (.39m/.3). All three of them took big hits.
Basic

The Closer (5.77m/1)
Perception (3.73m/.7)
Warehouse 13 (1.67m/.6)
Teen Wolf (1.6m/.7)
Alphas (1.35m/.5)
Secret Life Of The American Teen (1.13m/.5)
Bunheads (1.12m/.4)
Rizzoli & Isles (4.44m/.8)
White Collar (2.82m/.9)
Covert Affairs (2.58m/.7)
Pretty Little Liars (2.22m/.9)
Franklin & Bash (2.16m/.6)
Jane By Design (1.18m/.4)
Dallas (3.24m/.8)

Royal Pains (2.96m/.8)
Necessary Roughness (2.06m/.6)
Burn Notice (4.32m/1.3)
Suits (3.41m/1.2)
Breaking Bad (2.2m/1.1)
Political Animals (1.73m/.4)
Good Luck Charlie (3m/.4)
Single Ladies (2.48m/1.3)
Workaholics (1.34m/.9)
Melissa & Joey (1.23m/.5)
Futurama (1m/.5)
Sullivan & Son (1.77m/.7)
Awkward (1.82m/.7)
Project Runway (1.79m/.7)

Premium

True Blood (4.6m/2.6)
The Newsroom (1.74m/.7)
Weeds (.5m/.3)
Episodes (.24m/.1)
Photo Credit: FX