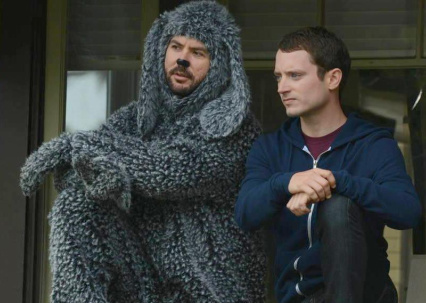 Well, wasn't that all rainbows and unicorn kisses?
In the end, Jenna made nice with Ryan after the truth came out.
Never mind the fact she lost her job because of Ryan's blunders. Forget about her making a fool of herself and being continuously reminded of the "Squishy Tits" incident. Let's toss off the bad-taste-in-your-mouth affair with boyfriend Drew and the pregnancy scandal which almost saw her married to the dopey sap. Again … all because of Ryan.
All those weeks of turmoil and trouble and tumultuous angst led to the conclusion of this week's Wilfred with Jenna apologizing to Ryan for her behavior. And I'm having a problem with it.
I know it takes two to tango, but in light of everything that's come before, Jenna's character got knocked down a few pegs on the popularity scale in my book. The story needn't have gone as sappy as it did, Jenna groveling to Ryan, confessing about trapping him. The entire final segment could have been shot with her coming off strong and dignified about the situation rather than the kiss-kiss-make-nice offering we were given. Now? Jenna's got to climb out the hole she's shoveled for herself. Yeah … she's still the cute girl next door, but I've lost respect for the character.
Equally so, I wasn't on board with the prolonged rant Wilfred raged Ryan's way during the filming of the cat video. It was too, too much and continued on to the point of uncomfortability. It was far from any comedic high notes Wilfred has in its history.
One more thing: I find I'm disappointed in Wilfred's obsession-of-cats-turned-affection. That doesn't sit well with me either. It simply doesn't jive with who Wilfred is and it effectively "neutered" him into sappiness, just like his owner. I mean … he's a dog for Pete's sake!
You see, I can enjoy Wilfred for what it is … but that doesn't mean I had to like what happened in this episode. The "honesty" didn't ring true.
Photo Credit: FOX