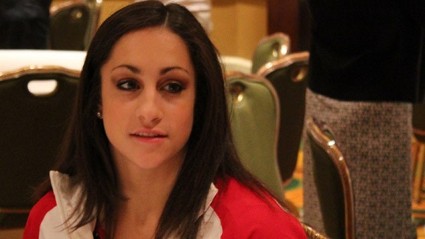 NBC - Dropping the 4th of July holiday in the middle of the week was great for those of us with regular 9 to 5s, but not so great for the television networks. Numbers were down for a lot of things as people ran about blowing things up, eating hot dogs and apple pie, and repacking the muffler on their motorcycle. That last one might have just been me…
Despite that, NBC was able to make some hay with continued coverage of the Olympic trials. Most notable among those was the two hour block of gymnastics from Sunday night (10.02m/3.3). That even managed to best a pie-weakened America's Got Talent (10.4m/3 – 9.32m/2.3) for the weekly demo crown. The rest of the week included Love In The Wild (4.11m/1.2), the Macy's 4th of July special (8.12m/1.8), and Saving Hope (2.2m/.4).
ABC - It didn't garner the numbers of NBC, but ABC does deserve a little credit for going with ten hours of new programming in the tough week. The Bachelorette (7.49m/2.5) was at the head of the class, followed by Wipeout (5.58m/1.8). After that, there was a pretty big drop to Rookie Blue (5.13m/1.3), Secret Millionaire (5.04m/1.2), Extreme Makeover Weight Loss (3.98m/1.2), and Duets (4.77m/1). In a rather bizarre result, Final Witness (4.88m/.5) managed to gain 600k viewers while losing half a point in the demo. Rounding out the week, The Glass House (2.84m/1) was down, and leaves one wondering why CBS bothered to complain at all. This one won't be around for long.
FOX & CW - The FOX week was made up of six hours of reality that included Hell's Kitchen (5.83m/2.4 – 5.07m/2), MasterChef (5.52m/2.3 – 5.14m/2), Take Me Out (3.09m/1.2), and The Choice (3.8m/1.6). The CW had The Catalina (.47m/.2) and the finaled of Breaking Pointe (.86m/.3), which did see a nice boost in its final go. CBS had no new programming.
CABLE - In premiere news, Showtime kicked off new seasons of Weeds (.81m/.4) and Episodes (.49m/.2) at decidedly Showtimesque numbers. Also worth noting, Anger Management (3.37m/1.3) was down better than two million viewers from the premiere. That is a hefty drop, but it was coming on the tail of a holiday, so we'll have to wait to see where things settle. The big winner for the week was the BET Awards (7.42m/3.2).
Basic

Falling Skies (3.39m/1.2)
Longmire (3.27m/.5)
Army Wives (3.02m/.9)
The Glades (2.51m/.5)
Drop Dead Diva (1.87m/.6)
Teen Wolf (1.65m/.6)
Eureka (1.59m/.5)
Lost Girl (.96m/.4)
Rizzoli & Isles (5.32m/1)
Franklin & Bash (3.2m/.8)
Dallas (3.36m/1)
Good Luck Charlie (4.05m/.7)
Shake It Up (3.74m/.6)

Workaholics (1.41m/.8)
Futurama (1.07m/.6)
The Exes (.74m/.2)
Men At Work (2.07m/1)
Awkward (1.76m/.7)
Wilfred (1.45m/.7)
Louie (1.08m/.6)
Food Network Star (2.43m/.8)
The Great Escape (1.41m/.6)
Pawn Stars (4.94m/1.6)
Deadliest Catch (2.71m/1.2)
Glee Project (.5m/.2)
Swamp People (4.3m/1.4)

Premium

True Blood (4.54m/2.6)
The Newsroom (1.68m/.7)
Marina Abramovic (.14m/.1)
Photo Credit: nbcolympics.com