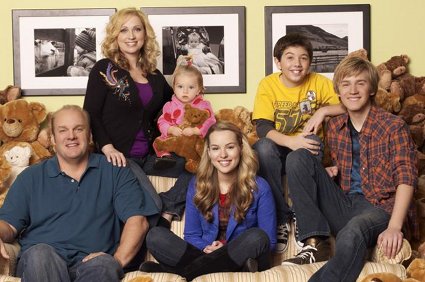 CABLE - The big story on cable was the premiere of Charlie Sheen's surprisingly conventional new FX comedy, Anger Management (5.47m/2.1 – 5.74m/2.3). Those are very good premiere numbers, and they also offered a nice boost to Charlie's new neighbors, Wilfred (2.53m/1.2) and Louie (1.43m/.7), which are both up over the previous season. It even led to a decent start for Brand X (1.07m/.5) at 11. The one thing Charlie couldn't do was deny the time-tested allure of a new baby episode of a sit-com. With the addition of the latest Duncan, Good Luck Charlie (7.48m/1.2) saw a big spike in viewers.
Basic

Falling Skies (3.81m/1.3)
Longmire (3.78m/.7)
Army Wives (3.33m/1)
The Glades (3.11m/.7)
Drop Dead Diva (2.04m/.6)
Teen Wolf (1.65m/.7)
Eureka (1.61m/.5)
Secret Life Of The American Teen (1.56m/.8)
Bunheads (1.38m/.6)
Lost Girl (.97m/.4)
Rizzoli & Isles (5.43m/1.1)
Franklin & Bash (3.57m/1)
Pretty Little Liars (2.36m/1)
Jane By Design (1.08m/.4)
Royal Pains (4.18m/1.1)
Dallas (4.08m/1.1)

Necessary Roughness (2.96m/.8)
Suits (3.88m/1.3)
Burn Notice (4.11m/1.2)
Workaholics (1.61m/1)
Futurama (1.45m/.8)
Melissa & Joey (1.42m/.7)
The Exes (.93m/.3)
Awkward (2.15m/.9)
Men At Work (2.21m/1)
Pawn Stars (5.8m/2)
American Pickers (4.79m/1.5)
Storage Wars (4.76m/1.8)
Deadliest Catch (3.16m/1.4)
Teen Mom (2.19m/1.3)
Hollywood Treasures (.72m/.3)
Food Network Star (2.51m/.9)

Premium

True Blood (4.66m/2.6)
The Newsroom (2.14m/1)
NBC - While there are still a few weeks to go before the London Olympics get started, NBC made a little hay by moving some of the Olympic Trials (mostly swimming and gymnastics) into prime time. The seven hours of coverage averaged 6.92m viewers and 2 in the demo. Not great, but a far sight better than what most of the summer programming is bringing in. Elsewhere, it was more of the same for America's Got Talent (10.45m/3 – 11.67m/3.2 – 10.66m/2.8), Ninja Warrior (5.7m/1.9), and Love In The Wild (4.91m/1.6). Finally, it was an upswing in the yo-yo ratings of Saving Hope (3.19m/.7).
FOX - There was nothing new or exciting to report as the FOX ship was rather steady with Hell's Kitchen (5.66m/2.4 – 5.51m/2.3), MasterChef (5.32m/2.2 – 5.46m/2.3), and So You Think You Can Dance (5.74m/2.1). The news wasn't quite as good for new reality entrants Take Me Out (2.32m/1) and The Choice (2.88m/1.2).
ABC - With no NBA it was back to third place for ABC. The Bachelorette (7.03m/2.3) and Wipeout (6.16m/2) looked ok, while  Duets (4.3m/1) and Rookie Blue (4.71m/1.1) brought the expected results. Unfortunately, premiere numbers for The Glass House (3.09m/1.1) and Final Witness (4.21m/1) were not encouraging.
CBS and CW - As has become the norm, CBS only offered Dogs In The City (4.72m/.9) and CW had The Catalina (.49m/.2) and Breaking Pointe (.62m/.2).
Photo Credit: Disney