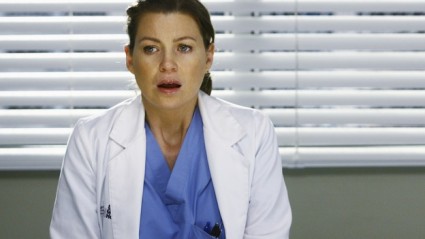 Meredith Grey is going to need to start seeing a therapist. Again. This woman absolutely cannot get a break. She's like Typhoid Mary. Those around her whom she loves suffer and thus she suffers. And suffers. And suffers.
Since the very beginning of Grey's Anatomy, Meredith's luck has been absolutely lousy. Let's review:
She hooked up with a man she didn't know was married and watched as he went back to his wife, despite her humiliating pleas for him to pick her. She removed a live bomb from the body of a patient, then stood witness as it blew up the cute bomb squad guy. Her mother, who'd been emotionally abusive to Meredith her entire life, had Alzheimer's and died as Meredith was being resuscitated after a suicide attempt. Her estranged alcoholic father, who was happy with the new family he'd made after leaving Meredith and her mother, blamed Meredith after his second wife died in a freakish manner while Meredith was her doctor. Her dog got sick and had to be put down. A close friend was hit by a truck and died, while another had stage four cancer, went into remission, then left. The guy for whom she'd long pined "married" her on a Post-It, but then was shot in the chest and nearly died as Meredith, who offered herself up as a sacrifice to the gunman who was killing everybody, miscarried her baby. Meredith then couldn't get pregnant but when she eventually adopted a baby, her husband left her as punishment for her screwing up a clinical trial. Meredith's baby was taken away by social services, then returned, and her husband came back, too, only to have the season end with Meredith and her husband involved in a plane crash where Meredith's sister Lexie was killed. Oh, and it's possible that Meredith could have Alzheimer's. Shonda Rhimes probably will give Meredith Alzheimer's.
Like I said, her luck sucks.
Killing off Lexie Grey was indeed a shocking move. It made me grab for tissues — the only time tears came to my eyes during this much-hyped finale — as she tearfully said goodbye to McSteamy, who'd dillydallied too long to tell her how he felt. (I kept thinking about what Meredith's voice-over said in the finale years ago when George died, admonishing us not to wait to tell the people we love that we love them.) And I thought Kepner would be the one to die.
As powerful as it was to see the life ebb out of Lexie and to be left to ponder what'll become of the remaining five surgeons, the rest of the finale left me distinctly, disappointingly cold. Seeing the Seattle Gracers stumble around in the woods with their grave injuries and no supplies a la Lost (minus the tropical environs and the Smoke Monster), wasn't all that compelling after Lexie died. Though ham-fisted parallels were made between the medical procedures being done at the hospital and those being crudely attempted in the woods, between everyone getting gussied up for a sumptuous residency dinner with Richard and the bloodied, marooned surgeons who had no food or heat in the woods, Grey's Anatomy lost its emotional mojo about halfway through the episode.
Did I get teary when Owen made Teddy take advantage of a once-in-a-lifetime opportunity when she wanted to stay and take care of him? Nope. Did I feel sad when April despaired about what will become of her as her peers take other prestigious jobs? No. Grey's has a reputation for absolutely riveting season finales that grab you by the throat and clean out your tissue box. But, after Lexie passed, this wasn't one of them.
Photo Credit: ABC