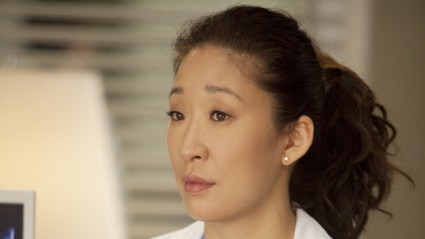 At least we got to see the kitchen in Meredith and Derek's dream house. And we got to witness a civil exchange between Cristina and Owen. Oh yeah, and Webber was adorable as he coached Alex through negotiations. It was sweet to see the look on Bailey's face when Ben proposed.
However, I spent large chunks of this episode, drumming my fingers and thinking, "get on with it already."
Weeks of "should I stay or should I go" deliberation, especially when it's done en masse with the residents, gets old. Fast. And given the news that came out this week about the remaining Grey's Anatomy cast members and their contrasts, the anticipatory drama has been sucked out of these decisions.
We already know that Grey's creator Shonda Rhimes has said there will be a significant death in the season finale, so we're left to speculate about who's going to die in the finale. My money's still on April, unless she's an obvious red herring, which is always possible.
As far as drama went in this episode, I was indeed surprised to see that Bailey received a marriage proposal and then, almost as quickly as it was tendered, it was withdrawn because, like everyone else in Seattle Grace (except for April) Ben is pondering a last-minute, out-of-town job opportunity.
It was promising to see Cristina tell Meredith, in a scene that felt like a romantic break-up, that Owen was her person, not Meredith. With tenderness in her eyes, Cristina twice sought out the hang-dog Owen, wordlessly lavishing physical affection on him. Then she lowered the boom. She was leaving Seattle Grace.
However, I've got to assume that whatever happens with the shocking airplane crash at the end of the episode — can you say crass season finale theatrics? — will affect our recently board-certified surgeons so dramatically that they will decide to remain in Seattle. I have to admit that when I saw Meredith, lying on her back, all I thought of was Lost and that other spinal surgeon who was lying on his back after a plane crash. Meredith is married to a Dr. Shepherd after all.
But let's hope that the only smoke monsters that emerge to harass the Seattle Gracers is the smoke coming out of the ears of the people who offered the residents positions once they're told that they won't be taking them.
Photo Credit: Randy Holmes/ABC