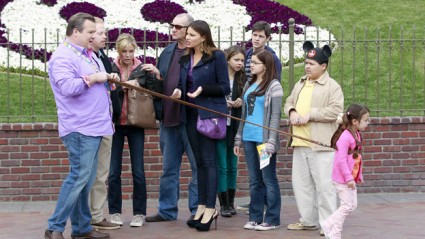 ABC really enjoys product placement of its Disney overlords by having popular sitcom families visit The Magic Kingdom, doesn't it? In this week's episode of Modern Family appropriately titled "Disneyland," the Dunphy-Pritchett clan made a trip to Disneyland, following in the footsteps of many other notable ABC families, including the Tanners (Full House), the Winslows (Family Matters) and the Conners (Roseanne).
Everyone from The Golden Girls to the kids from Boy Meets World, Blossom, Step by Step and Sabrina, the Teenage Witch have all managed to pay a visit to the Happiest Place on Earth, albeit the park in Florida. Apparently, the Bradys were the only under-budgeted family who had to visit King's Island instead. However, I don't feel too sorry for the Bunch, as they were also lucky enough to visit Hawaii and the Grand Canyon (on a mediocre architect's salary, no less) during their sitcom's heyday!
What is it about Disneyland that makes it such a popular destination for vacationing sitcom families? Is it the wonderment that anything can happen or the inevitability that anything can also possibly go wrong at such a touristy spot? It's hard to say really, but one thing I know for certain is that I still enjoy a Disney vacation cross-over, no matter how many times it's been done before.
Watching the Dunphys this week took me back to my early '90s childhood. Much like my 11-year-old geeky self waiting for TGIF to start, I found myself eagerly sitting on my couch waiting for my favorite characters to meet Mickey Mouse in a place where it seems like dreams and fairy tales really do come true. I still have yet to visit Disneyland or Disney World, but I have been to Euro Disney so I'm not missing much, right? Who am I kidding? I want to go to Disneyland, too! Is there really anything better than hearing a parent say, "We're going to Disney!"? Not that I would know from personal experience … and I'm still a little bitter about that.
When Haley unexpectedly ran into her ex-boyfriend Dylan, I briefly flashbacked to the episode of Full House in which D.J. misses her boyfriend Steve so much that she pictures him everywhere in the theme park, as Prince Charming (ironically, not as Aladdin) and even as Indiana Jones. I was half-expecting Dylan as Dapper Dan or Little John to have been just a mirage on Haley's part.
Although I'm probably not qualified to make a sound judgment on the matter not ever having been a proud parent myself, child leashes really annoy me, too. I loved what the writers did with showing the similarities between dogs on leashes and children on "child safety tethers." Sheer brilliance.
Phil trying to keep up with Luke and getting as excited as a little boy about the rides was adorable. I was glad he figured out he had the flu and he was not too old to be "King of the Roller Coasters." Watching Phil banter with Luke about maybe being too old to still do cool stuff with him only reinforced how great of a father he really is.
One of the best aspects of this episode though was seeing Jay's softer side, which he tries his best to cover up. From him fussing over Gloria wearing ridiculous high heels to the theme park to hearing how his marriage ended and how it took a speech from a robotic Honest Abe to keep his union together until his kids were grown, I gained a lot more respect for Jay as a father this week. It's a small world, after all.
Memorable Quotes:
Phil: "I have been waiting for this day ever since the doctor pointed to the ultrasound of your mom's womb and said, 'Either that's a fifth limb or you're having a boy.'"
Manny: "I may not be the tallest or the most athletic, but someday I will be the richest, which is good because the ladies love that. And I've grown accustomed to a certain kind of lifestyle."
Claire: "Haley has a thing for bad boys, which was so me."
Phil: "Clearly."
Claire: "So, if she's going to be leaving the nest soon, we'd prefer it wasn't on the back of a motorcycle."
Phil: "My college roommate had a motorcycle. Man, I had some good times on the back of that thing."
Phil: "This is gonna be so awesome! (sees wait sign for the ride) In 45 minutes, this is gonna be so awesome!"
Cam (about people staring at them for having Lily on a child leash): "You know, I don't care what people think. If I thought it would keep my daughter safe, I would have a kangaroo pouch sewn into my midriff."
Mitchell: "That's going to work out really well for you as a single parent. OK, we just got a glare from Mr. Socks with Sandals."
Jay: "Hey, how was Splash Mountain?"
Gloria: "It was great … maybe we go again."
Manny: "No, thanks. There was no reception in there. You know how many bars I had? Zip-a-Dee-Doo-Dah."
Claire: "Your rebel boyfriend's a Dapper Dan."
Jay: "I remember I was on Pirates of the Caribbean and this whole fight with DeDe was really eating at me and there was this angry animatronic wench with a rolling pin chasing some poor pirate around. They were on a track, running in circles, so he could never get away from her. And I remember thinking, 'I can't save you buddy, but I'm getting off this ride.'"
Gloria: "Fake money has changed you. Where is the Manny that used to stop to smell the roses?"
Manny: "He took a bath on a solar start-up in San Jose."
Gloria: "You have been so busy burying your face in your phone that you barely said hello to your family, you gave Winnie the Pooh the cold shoulder and you haven't even noticed that pretty girl in the blue elephant that has been smiling at you."
Jay: "I don't know what happened. Maybe it's what robot Lincoln said about a man's duty or keeping the union together. Maybe I just chickened out. But I realized that staying with my kids was more important than leaving my wife. Now, that's not the right decision for everyone but it was the right decision for me. So, I stuck it out 'til they were grown …"
Gloria: "Jay, you want to join me in the Jacuzzi?"
Jay: "And the universe rewarded me."
Photo Credit: ABC