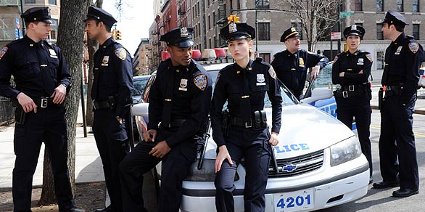 CBS - Business remains slow for television in general now that spring has sprung. You'll see a lot of low numbers as evidence in this week's post. Some shows, like the Monday comedy block of How I Met Your Mother (7.24m/3.1), 2 Broke Girls (8.52m/3.4), Two And A Half Men (11.22m/3.8), and Mike & Molly (9.54m/3.1) have the wherewithal to soak up the body blows of the changing seasons. Others, are not so lucky.
Which brings us to the latest offering from CBS, NYC 22 (8.86m/1.5). Not only is that well below what Horatio has been knocking down in that spot, it also gave the NYC 22 premiere the lowest demo on the network. That's a really bad thing for the premiere episode. The rookies followed Amazing Race (9.12m/2.6) and Good Wife (10.16m/1.8). The other new offerings for the week were NCIS (18.08m/3), Survivor (9.96m/2.8), and Rules Of Engagement (7.57m/2.2).
NBC - The peacock had a big premiere (of sorts) as well, with the return of Parks & Rec (3.46m/1.7). On the bright side, that is an improvement over Up All Night. On the really frickin' dim side, that was part of another disastrous Thursday that included Community (2.77m/1.3), 30 Rock (3.06m/1.5), The Office (4.35m/2.2), and Awake (2.8m/.9). That's an average of 3.3m/1.5 for an all new NBC Thursday. That leaves NBC looking up at Swamp People (4.46m/1.5).
The better news for the week came from the reality slate. The Voice (10.03m/3.7 – 8.86m/3.3) continues to do well, while Biggest Loser (6.96m/2.3) and Celebrity Apprentice (6.66m/2.2) were both up. Nothing else managed to crack the 2s in the demo. The rest of the week included Harry's Law (8.27m/.9), Smash (5.95m/1.9), Fashion Star (4.46m/1.5), Off Their Rockers (5.98m/1.6), Best Friends Forever (2.83m/.8), and Grimm (4.56m/1.4).
ABC - The big winner this week was probably the Body Of Proof fanbase, even though the show didn't air. Private Practice (6.53m/1.7) took over the Tuesday spot, and didn't measure up. At the other end of those particular scheduling shenanigans, Scandal (7.21m/2) is bringing very PPesque numbers on Thursday. Earlier in the week, the waters got quite a bit murkier for GCB (4.43m/1.5), Last Man Standing (6.51m/1.6), and Cougar Town (4.45m/1.4).
The news was better for Dancing With The Stars (16.65m/2.9 – 14.17m/2.5) and Castle (11.23m/2.1), but both of them join the rest of television in the spring decline. The same could be said of Modern Family (10.21m/4.1). Still a solid number, but well off what the show was bringing in earlier in the season. It was joined by Suburgatory (5.69m/2) and Don't Trust The B In Apartment 23 (6.43m/2.3). That's about the usual second episode drop for Don't Trust The B, but still a little disappointing considering the competition. Thursday brought a slight drop for Missing (7.23m/1.4)  while Grey's Anatomy (9.82m/3.3) bounced back from the lows of last week.
FOX - It was a slow start to the week with The Simpsons (4.96m/2.3), Bob's Burgers (3.9m/1.9), Cleveland (4.34m/2.1), Bones (7.15m/2.2), House (5.61m/2), Glee (6.23m/2.4), New Girl (5.22m/2.7), and Raising Hope (3.79m/1.8). I'm really surprised to see House going out like this, spring or not.
Of course, business picked up Wednesday with American Idol (16.89m/4.8 – 14.99m/4). Touch (7.32m/2.1) remains questionable, having now lost 4.5 million viewers and a full point in the demo in five weeks. If you would like your glass half-full, The Finder (4.31m/1.2) and Fringe (3.03m/1) were both up week-to-week.
CW - It was very nearly a full week of programming from the CW, including Gossip Girl (1.06m/.6), Hart Of Dixie (1.37m/.5), Ringer (1.2m/.5), Next Top Model (1.31m/.6), Vampire Diaries (2.21m/1), Secret Circle (1.14m/.5), Nikita (1.39m/.4), and Supernatural (1.57m/.7).
CABLE - HBO premiered their latest, Girls (.87m/.4) to less than stellar results. Fortunately, they also have Game Of Thrones (3.76m/1.8), which remains steady, and looks likely to dodge the untimely cancellation fate that has plagued so many others. Over on basic, we also find premieres for Eureka (1.81m/.6) and Deadliest Catch (2.58m/1.2).
Basic

Army Wives (2.91m/.9)
The Client List (2.85m/1)
Mad Men (2.69m/1)
The Killing (1.65m/.6)
Breakout Kings (1.39m/.6)
Secret Life Of The American Teen (1.61m/.8)
Make It Or Break It (1.22m/.5)
Lost Girl (1.07m/.4)

The Game (2.19m/1.1)
Let's Stay Together (1.63m/.8)
South Park (2.43m/1.3)
Hot In Cleveland (1.09m/.2)
Happily Divorced (.88m/.2)
Pawn Stars (5.03m/1.9)
Top Shot (1.75m/.8)
Monster Man (.67m/.3)

Premium

Eastbound & Down (1.14m/.6)
Nurse Jackie (.58m/.2)
The Borgias (.53m/.2)
The Big C (.47m/.2)
Photo Credit: CBS