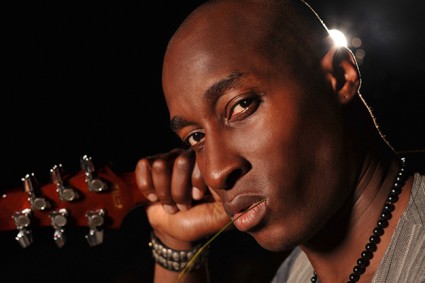 "Who wins this thing?
I'm going to reverse what I said … about there being no possible way Jermaine can win.
Based on tonight, I don't see how he can't walk away with the title."
I said that in my last review of The Voice. But … was that really the case? Did Jermaine garner the most votes after Monday's show to beat out the likes of Chris Mann, Juliet Simms and Tony Lucca?
Let's put it this way: It took the better part — and I mean right up to the final exhaustive minutes … two hours, folks — to come to that conclusion. Two hours of The Voice with the majority of it filler, filler and more filler.
I only need toss one thing at you as proof: Purrfect The Cat got his own freakin' segment during the show. And folks? "That's no metaphor."
I'm going to do you a favor. I'm not going to drone on paragraph after paragraph after paragraph about the finale or who ultimately won. (You're welcome.) I'm going to glance over the throwaway final performances, I'm not going to whine about the disappointing Hall and Oates performance, I'm going to skip over how truly bored I was with Lady Antebellum and Justin Bieber's crotch grab. (I'm not even going to launch into all the crap about "99 Problems" Christina went on about.) Or any of the other window dressing that comprised the season wrap up.
You see … I have a little more respect for you than to thrum on and on and on ad nauseum about … every … little … thing … that … went … on … during … the … show. The Voice two-hour finale did not offer you that same respect.
So this is where it's at: Chris Mann was third runner up. (I told you he wasn't The Voice.) Tony Lucca was second runner up. Juliet Simms was runner up …
… and Jermaine Paul came out shining on top.
He was an unlikely contestant to win the competition. At least he was for me, proving I can be wrong. And you know? I really didn't have a problem with that.
I asked in my previous post if anyone did enough to win The Voice. Apparently, Jermaine Paul did. But I don't think I'll remember that come, say, next year.
One Last The Voice Note: And here I thought Christina covered up for this show, displaying an unrevealing and tasteful blouse (for a change) and sequence-y coat. But then she walked out on stage when Chris Mann was announced as the fourth place winner with her ass hanging out in a pair of spangly, tight briefs. Klassy with a "k." It makes me glad that season is over and done with.
Photo Credit: NBC