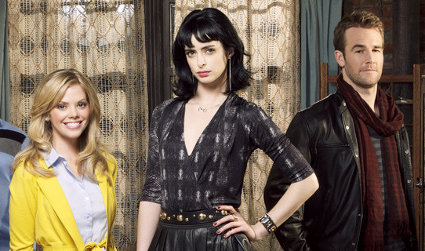 ABC - It's that time of the year, where the weather takes a turn for the better and we can all quit carrying that extra pair of motorcycle pants to every play for the chilly ride home. Or maybe that's just me. Either way… Yay! For our purposes here though, it is not such a good thing. As the temps climb and sunset moves later and later, the numbers drop almost across the board for television shows. There was a lot of that going on last week, and it's important to keep in mind as we kick things off with Don't Trust The B in Apartment 23 (6.9m/2.3).
If you've been following along, you'll recognize that the premiere for The B was below a number of results for Happy Endings over the course of the season. However… those Happy Endings results also came on the tails of a much stronger Modern Family (10.35m/4.2). ABC's biggest hit hasn't been immune to the lure of springtime, losing a solid point in the demo. With that in mind, while the numbers for The B weren't great, they were good enough to warrant further investigation. Week two will be telling. The rest of the Wednesday lineup — The Middle (7.06m/2.1), Suburgatory (6.04m/2.1) — was down as well.
Elsewhere, there was good news and bad news for GCB (5.25m/1.7 – 5.22m/1.9). Both episodes are lower than the network would probably like, but the fact that the numbers held without the Housewives lead-in signal that the show has found its own audience. In reality, Dancing With The Stars (16.39m/3 – 13.39m/2.3) is also stumbling a bit, but still not much of a worry. The Tuesday comedy block, on the other hand, is a bit troublesome. Last Man Standing (6.84m/1.8) and Cougar Town (4.81m/1.5) aren't doing a lot to sell the idea. Body Of Proof (10.05m/1.9) finished the season on an up note. And Thursday brings mostly question marks with Missing (7.91m/1.4), Grey's Anatomy (8.85m/2.9), and Scandal (7.28m/2).
FOX - American Idol (16.81m/5 – 15.81m/4.3) led the way, with Touch (8.17m/2.3) in tow at steady levels. But the big story was the long overdue return of Glee (6.76m/2.7) to Tuesday. The hiatus, and resulting comedy block, can only be looked on as a failure. Glee returns down after the break, while New Girl (5.23m/2.8) and Raising Hope (3.81m/1.8) have weeks of below par numbers to show for it.
In other iffy news, Bones (7.56m/2.2) slipped again on Monday. It still seems to be the best solution for the night moving forward, but it's looking more and more like there is going to be a House sized hole in the schedule. And speaking of House (6.01m/1.9), it's going out with a whimper. Things wrapped up with a pair of series lows on Friday for The Finder (3.37m/.9) and Fringe (2.9m/.9).
CBS - The Monday combination of How I Met Your Mother (8m/3.5), 2 Broke Girls (8.78m/3.5), Two And A Half Men (10.4m/3.6), Mike & Molly (9.58m/3.2), and Hawaii Five-O (10.3m/2.6) are another good example of spring at work. Even down though, it's still a very solid night. Earlier, the week started with delayed editions of Amazing Race (9.18m/2.5) and CSI Miami (7.94m/1.7).
There were more soft numbers Tuesday from NCIS (17.66m/3.1), NCIS LA (12.86m/2.4), and Unforgettable (9.45m/1.8). Likewise for the Wednesday combo of Survivor (9.91m/2.7), Criminal Minds (11.81m/3), and CSI (9.94m/2.4). The most interesting number of the week might have been for a repeat of Big Bang Theory (10.21m/3.1) on Thursday at 9. That's a repeat finishing #1 in viewers and demo against new episodes of Grey's, The Office, and Touch. Rules Of Engagement (8.46m/2.7) was the only new programming for Thursday.
NBC - Harry's Law (7.74m/1) continues to be a fascinating conundrum. It was the most watched scripted show on the network, and next to last in demo. Clearly, it's not a good match for Celebrity Apprentice (6.52m/2.1) which drops over a million viewers while more than doubling the demo. Those are vastly different audiences.
The Voice (10.52m/4 – 9m/3.5) remains solid on both nights, and Smash (5.99m/2) looks to have done enough to garner a second season. There were no surprises from The Biggest Loser (6.52m/2.1), but the yo-yo was again on the upstroke for Fashion Star (4.66m/1.8). The thing that sticks out most to me about that Fashion Star number is that it finished ahead of SVU (5.57m/1.7) in the demo. This has to be the end of the line for the L&O universe, right?
Also on Wednesday, Off Their Rockers (6.06m/1.6) remained ahead of much of the NBC schedule, but again offered no help to Best Friends Forever (2.78m/.9). Thursday was more of the same from Community (3.09m/1.4), 30 Rock (2.98m/1.4), Up All Night (3.12m/1.5), and Awake (2.68m/.9). Perhaps more troubling was the result for The Office (4.39m/2.2). Yes, everything is down in spring, but The Office is now a fourth place show. The week ended with the pleasant surprise of Grimm (4.96m/1.6) on Friday.
CW - With only four new entries, the biggest surprise is that Hart Of Dixie (1.2m/.5) is the most watched show on the network. And the second biggest surprise is that Gossip Girl (.98m/.5) is the least watched. The other two were Ringer (1.1m/.4) and Next Top Model (1.08m/.5).
CABLE - There were premieres to be had over on Showtime, where Nurse Jackie (.65m/.3), The Borgias (.61m/.2), and The Big C (.58m/.2) all kicked off new seasons at very low levels. The bigger story was on HBO, where Game Of Thrones (3.76m/1.9) was right on pace with the premiere numbers from the previous week.
Basic

Army Wives (3.1m/.9)
The Client List (2.79m/.9)
Mad Men (2.75m/1)
The Killing (1.81m/.6)
Breakout Kings (1.61m/.7)
Secret Life Of The American Teen (1.61m/.7)
Being Human (1.38m/.6)
Lost Girl (1.22m/.5)
Make It Or Break It (1.1m/.4)

Justified (2.66m/1.1)
Psych (2.71m/.9)
The Game (2.26m/1.2)
Let's Stay Together (1.72m/.9)
South Park (2.24m/1.3)
Ninjago (3.34m/.5)
Pawn Stars (5.38m/2)
Deadliest Catch (3.14m/1.4)
Swamp People (4.96m/1.8)

Premium

Eastbound & Down (1.15m/.6)
Life's Too Short (.52m/.3)
Photo Credit: ABC