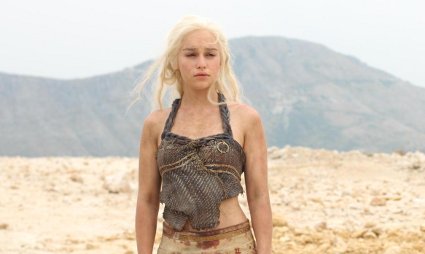 CABLE - It would seem that absence made the heart grow fonder where Game Of Thrones (3.86m/2) is concerned. Season two opened well above the 3.04m/1.4 of the first season finale. On the other side of the coin… you find the season two premiere of The Killing (1.8m/.5), which was down from the 2.32m/.7 for season one finale. It would seem the ridiculous finale was a deal breaker for more than a few, and the recent zombie successes for the network didn't transfer in this case. In week two news, Mad Men (2.94m/1) was down from the premiere, but remains above the previous season levels. And just for kicks and giggles, feel free to weigh all that against the latest from Swamp People (4.51m/1.7) and scratch your head accordingly.
Basic

Army Wives (2.6m/.8)
Breakout Kings (1.45m/.7)
Secret Life Of The American Teen (1.56m/.8)
Being Human (1.27m/.5)
Make It Or Break It (1.17m/.5)
Lost Girl (1.01m/.4)

Justified (2.47m/.8)
The Game (2.02m/1.1)
Let's Stay Together (1.67m/.9)
South Park (2.69m/1.5)
Psych (2.64m/.9)
Monster Man (.68m/.2)

Premium

Shameless (1.45m/.7)
House Of Lies (.78m/.4)
Californication (.77m/.4)
CBS - The Tiffany network is almost boring in its consistency. Almost every show just motors through the season producing solid numbers. This week, with Country Music Awards (13.09m/3.1) and NCAA Basketball (20.87m/7.6) powering Sunday and Monday, CBS was able to top four of six nights in viewers and demo. The two losses were Tuesday, where team Gibbs was in all repeat formation, and Wednesday, where American Idol topped what was an otherwise solid night from Survivor (10.36m/2.8), Criminal Minds (11.34m/3), and CSI (12.06m/2.9).
That means that the Thursday combination of Big Bang Theory (13.29m/4.4), Rules Of Engagement (8.58m/2.7), Person Of Interest (13.69m/3), and The Mentalist (12.59m/2.4) was able to outpace FOX's combination of American Idol and Touch. That's a big win for the network. Friday was also an easy win, thanks to Undercover Boss (7.75m/1.8), CSI NY (8.96m/1.6), and Blue Bloods (10.76m/1.7).
FOX - The news was mixed for FOX this week. On the bright side, it looks like Bones (8.39m/2.5) has stopped the bleeding on Monday, and taken over as the likely replacement for House (6.67m/2.3) on the night. And, of course, American Idol (17.09m/4.9 – 14.34m/3.9) is still American Idol, even if it is down. Less encouraging is the continued decline for Touch (7.15m/2.3). The loss of another 1.8m viewers lands the show in a distant third place.
From the bad news that will get better department, the horrible Tuesday comedy experiment came to a crashing halt with Raising Hope (3.93m/1.6), New Girl (4.59m/2.3) and Breaking In (2.55m/1.3) all looking worse for it having happened. The return of Glee should bring the night back up, and will be welcomed by all. The Friday debut of The Finder (3.92m/1.1) was also rather iffy, even if it did land the show slightly above Fringe (3.08m/1). Earlier in the week, Bob's Burgers (3.66m/1.7) and American Dad (4.18m/2) were ok flying solo.
ABC - The week started out well enough with Once Upon A Time (8.36m/2.8), Desperate Housewives (8.49m/2.6), and GCB (5.63m/1.9) on Sunday. GCB does leave a little to be desired in the numbers, but remains the best of the recent solutions for Sunday at 10. Monday and Tuesday were ok as well, with Dancing With The Stars (16.87m/2.9 – 15.61m/2.8) paired with Castle (11.69m/2.1) and Body Of Proof (10.51m/2). With the similar lead-ins, there really isn't much difference between the two.
Things took a turn for the worse on Wednesday, where leaving Happy Endings (3.67m/1.7) to fend for itself is doing it no favors. Thursday was rather iffy as well, with Missing (7.24m/1.5) continuing to skew very old, while the premiere of Scandal (7.33m/2) was questionable at best. A normal week two drop will put it in cancelation territory, and that was following a new Grey's Anatomy (8.19m/2.8)
NBC - The good news is that The Voice (10.83m/4.1 – 8.45m/3.2) is still a hit on Monday and Tuesday. The Tuesday number is probably a little lower than the network would like, but it's hard to throw stones at the second best thing going on the network. Smash (6.03m/2.1) is also worth noting. Not great numbers, but it has held up well in the 10PM slot. I suspect it will flounder if taken away from the protection of the Voice lead-in, but for now it is what passes for a win on NBC.
Things get really ugly on Thursday. The night, which did include an Office repeat, averaged 2.69m/1.16. That number is mind-bogglingly bad. I suppose Community (3m/1.3) deserves some recognition for being the best of what is a horrible group. But really, it's hard to say anything good about a show that finished in 10th place for the night among broadcast shows, with less than half the viewers of the 9th place show. For their part, 30 Rock (2.79m/1.2), Up All Night (2.58m/1.2), and Awake (2.56m/.9) were even worse. So bad, in fact, that they all placed behind the Big Bang Theory repeat on TBS at 10PM (2.96m/1.3) that night.
In other comedy disaster news, Best Friends Forever (3.94m/1.2) premiered to horrible numbers before handing off to what amounts to the series finale of Bent (2.27m/.8 – 1.93m/.7). I remain completely confused as to why neither of these shows got a shot after The Office. Could they really have done any worse than Up All Night has been doing? Elsewhere, the shine seems to be off the current crop of Celebrity Apprentice contestants (5.96m/1.8), and Fashion Star (4.11m/1.5) isn't gaining any ground despite following The Voice. Two other bright spots (NBC bright) came thanks to Off Their Rockers (7.4m/1.8) and Grimm (4.47m/1.3). That's not a great number for Grimm, but it does put it ahead of eight other shows on  the network, despite airing on Friday.
CW – There were only three new entires for CW. The most notable was Gossip Girl (.97m/.5) which finally dropped below the million viewer line. It was joined by Ringer (1.05m/.4) and One Tree Hill (1.43m/.8).
Photo Credit: HBO