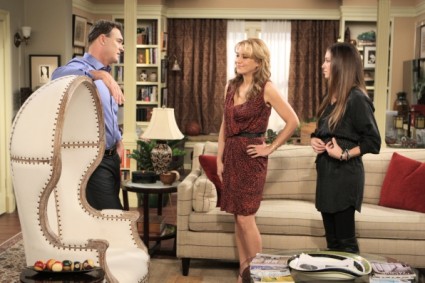 I've long ago given up on Rules of Engagement giving us any sort of continuous story line; clearly, even with the baby "coming," just about the only things we viewers can expect to carry over from week to week are the preexisting relationships. Fine.
But I have come to expect solid light entertainment from the show. And while it took last night's episode some time to warm up — it wasn't until Audrey and Jeff started passive-aggressively battling over the heinous chair that the episode took off — in the end the show didn't let me down. So thanks for that.
First to the "B" and "C" story lines, which, trust me, is putting it nicely. Adam building a fort out of the crate that Audrey's chair came in? The only thing that made it entertaining was Jeff, doubting there was a Logan (Jen's nephew) that Adam was building the fort for. I love how it came full circle in the end, with Jeff coming to save Adam, only to find him and Jen stuck in the crate together. "There never was a Logan, was there?" Jeff asked, before shutting them in again. Jeff's awesome, and without him that story would have flopped.
Timmy and Russell were flailing about as usual. The humor there was solely in how hilarious it was to listen to the sexual harassment charges that Russell filed against Timmy after Timmy saved Russell's life twice in the executive dining room. First there was the charge that Timmy had locked lips with Russell for twenty seconds (mouth-to-mouth); second was that Timmy had wrapped his arms around Russell from behind and thrust several times (the Heimlich). Funny stuff. The rest? Well, I recognize that we needed everything else for the set-up, but couldn't it have all gone down at the diner, without the Iraqi refuge angle? Just a suggestion.
Which leaves us with the chair. And that was one ugly chair. I can't figure out if it looked more like some sort of bird cage, or a pod from a science fiction movie. Either way, I loved how insulated it seemed to be, especially when Jeff had to knock on the side to get Audrey's attention.
So, like I said above, the plot started slowly, but as soon as Jeff figured out Audrey's initial angle, it got great. First Jeff insisted that they keep the chair that they both hated. Then, after Audrey had attempted to hide the chair in the baby's room, Jeff moved it out to the living room and turned it into Audrey's TV chair. Awesome! But the best part was the final play, when it looked like Audrey was finally going to admit to Jeff that she hated the chair … only to instead double down by buying a second one, paying a fortune for same day delivery, and replacing Jeff's TV chair with the hideous chair. Too funny!
Who'd have guessed an ugly chair would do it?
"You guys have a different relationship than Adam and I." – Jen to Audrey, after Audrey refused to admit to Jeff that he was right about the chair
"I know, it's sweet, you're in love. But it all leads to the same place." – Audrey
Photo Credit: CBS