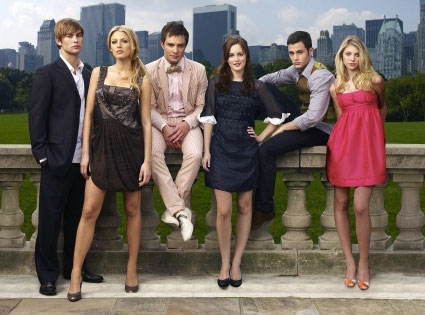 Do you ever stop in the middle of one of your once-adored shows and think, "Wait. Why am I still watching this again?" And you promise yourself you'll stop … next week. And you may or may not actually stop.
I've been doing this a lot lately. Maybe I keep watching out of habit, or loyalty. Maybe it's because I'm hoping things will take a turn for the better. Or maybe I'm just afraid of letting go. Because I won't have my security blanket of shows to fall back on, and I'll have to start again will all new ones!
Join the CliqueClack team as we discuss those shows about which we just aren't feeling the same excitement these days.
Rachel: Have we ever done a "Shows that used to be great and now sorta suck" post?
My top choice would be Gossip Girl. It used to be fresh and kind of funny. Now it's just getting repetitive. The characters have always acted "like adults" — more like overgrown children — but now that they're not in high school anymore, they just look like people who don't want to take responsibility for their actions as opposed to kids who can pretend they don't know any better. Plus all those parties are getting really annoying. I guess the novelty has worn off. I did a post called "Ten thing I miss about Gossip Girl" which kind of sums it up.
Deb: Glee is definitely the one for me. I haven't abandoned a show in a very long time … probably because they all get canceled before I'm done with them. With Glee, I made it 10 minutes into the Christmas episode this season and decided I wanted my self-respect back. I'm embarrassed that my son knew the Glee version of Don't Stop Believin' before he heard the Journey classic. We have since righted the planet.
[The Glee discussion, at this point, took off and generated tons of responses from the Clackers … so I told Ivey he could have 'em for his upcoming post on what on earth happened to Glee. Look out for it!]
Julia: I gave up on a record number of shows this year: Bones (became contrived), Glee (I have written about my feelings) and Modern Family (that has turned into a total snorefest).
An: Can I add in shows that used to not suck, that started to suck and now no longer suck? If so, Smallville is at the top of my list. However, there are shows that I still believe are good, but I no longer have the passionate fervor in watching such as Burn Notice, Psych or Castle.
Chuck: I agree, Smallville did have a nice recovery to wrap things up.
Ivey: Smallville would experience those same type of arcs during a season sometimes, too. They did great premieres and finales (and surrounding episodes), but man they'd get bored midseason. I think I wrote a post about it once.
Rachel: Add Idol to the list of "Good shows gone bad." It's just painful! I think Simon's leaving had a lot to do with it. All the judges are boring softies now. Was it ever good? I think it was … right? … Michael?
Michael: I came in on American Idol during Season 5. I was instantly taken with Taylor Hicks, someone who seemed to "have the music in him" from the very start, his audition. You could see it ooze out of him. Simon didn't give him a chance during that audition; irony of ironies, he won that year.
We lost Casey Abrams this past week, the only other person I've witnessed to "have the music in him" on Idol.
For these two reasons alone I dig Idol.
I've expounded on tons of things good and bad about the show, but has it gone downhill? Yes. The introduction of Kara DioGuardi, Ellen DeGeneres, the secrecy in the voting numbers, the continual and constant filler, the craptastic formats, the mind-numbing guests and mentors. Is it still close to my heart? Yes. Because, every once in awhile there is a Taylor Hicks or Casey Abrams that comes out of the woodwork.
Now? I'm keeping my eye on The Voice and its amalgam of formulas that have been pilfered from every game and reality show out there. Amazingly, it's fresh, engaging and worthy of view. No clue if it could give Idol a run for its money, but remember Idol is an institution that ushered in the format and became the juggernaut it is today, regardless of all the sniping, derogatory remarks and whining folks aim at it.
[Here are two pieces Michael wrote recently about Idol: one describing how the judges don't really judge anymore, and another after this Wednesday's show entitled, simply, "The worst episode of American Idol ever."]
Chuck: I gave up on Idol during the season with Danny Gokey. He auditioned with his friend who was really good but they cut the friend and kept the insane del Toro girl with the crazy laugh and eyes. It became a joke at that point and I never watched after that episode. I got tired of the lazy production of the show as well, with it always running overtime and the producers blaming it on the uncertainties of a live broadcast. Meanwhile, Dancing With The Stars is bringing a live broadcast in on time every week — even when Marie Osmond fainted!
An: Actually, I'll add Idol to the list of it was good (first 3 seasons), became bad (almost all seasons after 3), became good (the top 20-25 selection process this season) and became bad again (when this season wen into full-blown competition).
Meredith: As my reviews of Private Practice have grown more and more negative,  I've come to the realization that I now despise [it] and no longer want to watch it. I'm disappointed that the writers squandered the character of Addison Montgomery and took the quirkiness of some of the other characters and sullied them by saddling them with silly, outrageous and unbelievable storylines. It's a shame.
Chuck: Another show I watched because it had a lot of humor along with the drama, but then about midway through Season 3 all the fun got sucked out of it, is Brothers and Sisters. Once Calista Flockhart's character got cancer, the winery was in danger of going belly up, and Rob Lowe's character became really unbearable, I just had to give up. Even the weekly family dinner scenes got to be too much of the same thing. It stopped being a fun, guilty pleasure.
Ivey: Along those same lines, too, is Desperate Housewives for me. I enjoyed the hell out of the first season, but gave up like an episode or two into the second season, where it lost all of its appeal almost instantly.
Deb: Oh, yes, definitely. Keith and I stopped watching after the second season, which was a bit insufferable but still had its moments.
Chuck: Yeah, I guess I have to agree that they lost something along the way, but I stick with it out of loyalty I guess. The five-year jump was kind of interesting, but they squandered Dana Delaney and now they're squandering Vanessa Williams. The minute they killed Edie they really lost the humor of the show. Williams' character could be the new Edie because she can deliver one-liners like nobody's business, but they still haven't figured out how to really incorporate her into the core group. Maybe Teri Hatcher and Felicity Huffman should call it quits this season, as was speculated and denied earlier in the season, so they can bring in some fresh blood and give Williams a chance to shine. Bring in someone younger like Erica Durance to handle more of the funny business and a mysterious older woman to spice things up. I hear Susan Lucci might be looking for work soon.
Tara: *slinking away after reading 60-some comments about shows I actually like*
But seriously. You have to suspend disbelief with Glee. I still stand by the fact that the writing is excellent, and it's so great to see the "semi-return" of something I loved as a child — the variety show. It's meant to be fun and often makes fun of itself. The guest stars are a plus also. It's meant to be light entertainment. As are Idol and Housewives.
*now slinking as promised*
Tara, don't slink away! And that goes the same for you, readers. We'd love to hear your opinions on this subject. What are some other good shows gone bad? (Feel free to defend your shows, too, if you  disagree with us …)
Photo Credit: The CW / Andrew Eccles