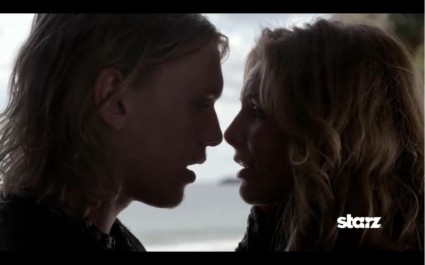 This week's Camelot left me feeling sad. I was sad for Arthur, who has fallen for perhaps the one girl he can't have: Guinevere. I was sad for Guinevere because she was set to marry a life-long friend that she cares deeply for, but does not love. I was sad for Morgan, who never felt the love of a father and lost her mother too soon, causing her to be self-destructive. I was sad for Leontes, who genuinely loves Guinevere and who risks his life for Arthur only to be betrayed by both of them.
I watched the episode again today and still felt that sadness. It takes good writing and acting to portray such emotion. It is kinda odd that this episode in many ways was more emotional and sad than the premiere, yet no one died this week. It's almost as if the aftermath of the deaths permeated throughout the story.
Was I the only one who didn't realize that Guinevere was  virgin? With the pre-marital sex, we saw in the first episodes, it never even occurred to me that she was a virgin. It made her proclamation of "just once' seem a bit odd; it didn't sit right with me that she would give into to Arthur, if it was her first time. If she wasn't a virgin, it would've made sense. To be honest, when they came across the deer, I thought maybe she was taking the blood for some type of ritual, not to use on her marital bed. I'm intrigued to see where this love triangle heads.
Within such a short time, the characters and their relationships have been well-developed. I was surprised to see Arthur take such an independent route from Merlin already. When he said, "I'm the king and I made a decision," I wanted to cheer for him. Though, I do worry that he will take unnecessary risks that put others in danger. He is too trusting of Morgan and that is leading him down a dangerous path. He doesn't think of consequences, not with sleeping with Guinevere, nor with trusting his sister.
I've never watched a medieval series before and now with Camelot and the coming soon Game of Thrones, I'm looking forward to being immersed in their worlds.
Photo Credit: Starz