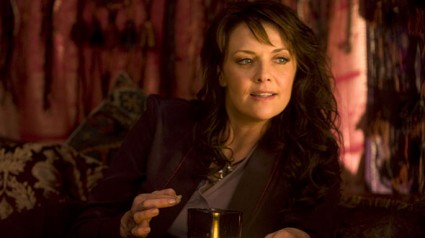 Amanda Tapping discusses recent developments on Sanctuary and reflects on all things abnormal: Ashley's death, Helen's relationships with Druitt and Tesla (and Olaf!), the epic season two finale, story arcs for season three, Robin Dunne's embarrassing habit, and more. She also answers many of the great questions submitted by CliqueClack readers. Here's the interview — enjoy!

Ruby T.: With the death of Ashley, are you playing Helen differently? How has Ashley's death changed her?
Amanda Tapping: It's changed her drastically. I think you're not going to see a huge outward change because that's not Helen, but you'll see moments where it's revealed just how deeply she's hurting about this. But she's such a tightly wound character, and she plays her cards so close to the chest that it's very rare, except in the first three episodes, where you'll actually see her struggle. And then, of course, in episode five, which has already aired, she talks about trying to find a cure for her longevity because she just doesn't see the point of being around any longer now that she's lost Ashley. So it's moments like that that are revealed. And then she just sinks back down and gets back to business. And then in "Next Tuesday" she talks about the fact that Ashley's birthday is coming up and she can't handle it. And then she sinks back down to business. So it comes in waves for the audience. For Helen, it's a constant, but for the audience, you'll just see it revealed in little moments. Definitely, I mean, it's a massive impact because she decided to have this child in the first place and bring her into this environment, and of course the consequential guilt that she feels is huge.
RT: So with the loss of Ashley we have a new character in Kate Freelander. What do you think that she brings to the show, and what does Helen see in her—why does Helen ask her to be a part of the team?
AT: It's what she does. Like she collects these abnormals, and she brings them into the Sanctuary, protects them and nurtures them. And then, in a lot of ways, in Kate she sees a wounded bird who, given the chance, can just blossom beautifully. She doesn't trust her off the top, … but I think that after a while Helen goes, "Wait a second, there's huge potential with this girl," and decides to take her under her wing. And the thing with Kate that I love is that you don't like her off the top. We wanted her to be revealed to the audience organically. We wanted her to slowly become something that the audience could trust—to go on the journey with us, essentially. Nobody in the Sanctuary network likes her off the top. They're like, she's—there's something wrong with her, and she's wily, she's up to something, and then slowly we start to trust her and then start to like her, and then genuinely embrace her. So we're hoping that that's the journey that the audience goes on too.
And in terms of casting her, we did a huge search for her, and we saw hundreds of actresses. And Agam came in, and right off the top I said, "She's Kate." And the guys were like, "Well, we got a lot of people to look at," and she was shortlisted and shortlisted. There was just something about Agam's energy for me that I knew would fit in beautifully with the Sanctuary cast. Not that she—you know, she's a phenomenal actress, and I think she did a great job with the audition. She nailed it. But there was also something about her energy as a human being that just jelled so beautifully with the rest of the cast and with the show. So, as much as I know there's a lot of derision on the Internet about whether or not she's the right character for the show, I think she's absolutely perfect.
RT: You mentioned "Next Tuesday," which is one of my favorite episodes because it shows a different side to Helen and also to Will. How would you describe the relationship that's grown between Will and Helen?
AT: I love this relationship because it's so much more honest this year than last year. And you know, it has to be. Will was still trying to find his feet last year, and he didn't have the confidence that he has now. … That's how it feels like everything has rolled out with this show in terms of the relationships, so organically. He's now really comfortable, and now he's calling Helen out, and he's not gonna let her get away with stuff. … So it's actually interesting for me though because Helen's so uptight and knowing that she's dealing with this and she's not dealing with it well because she doesn't deal with emotions well. She comes across almost—when I read it I was like, uh, it seems like Helen's jealous that Will might have this booty call! [Laughs] And I don't think it's that so much as she just didn't know how to say, "I need your help." And that's because he's the closest thing to her. It's even harder. So he says, "I don't know why you're acting this way. This is weird!" But I think it's a really interesting dynamic, and the two of us really enjoyed playing it, but there were moments where we would call Damian and go, "What did you mean by this? Why would she say it like this?" Cause you read it, and it's weird. It's a weird dynamic between the two of them, but ultimately what it shows is how comfortable they are with each other.
RT: In "Next Tuesday," we met a guy named Olaf. Will we be seeing more of him?
AT: I don't know. I don't know whether we will or not. [Laughing] I think he's just so—he was so great, the actor was wonderful—but he was just so schmarmy. Initially we were trying to get … Chris Sarandon, which was our original thought. Wouldn't that be funny? You know, from The Princess Bride, but I don't know … I mean, I can never see [Olaf and Helen] together. He's just too—you know, he might be fun for a weekend, but for the long haul I think he'd drive her crazy.
RT: Are we going to see more of Helen's relationships with John Druitt and Tesla?
AT: Oh definitely. Definitely. That's something that has to be explained. I don't know if "Haunted" has aired yet in the States, but it's an episode that reveals a lot about John Druitt, and you see why in some ways Helen fell in love with him in the first place. Because he wasn't Jack the Ripper when she fell in love with him. So that relationship is the quintessential relationship in Helen's life. He is her paramour. It's just incredibly screwed up. [Laughs] Because of what he does subsequent to their [relationship]—because you see why she would fall in love with this man … with his intelligence and his passion … Also, you know, I talked to the guys about doing more history with Helen. I mean, what informs this woman? …. Wouldn't it be great if we actually showed what the Sanctuary was all about in the early days?
RT: "Sleepers" was a really fun episode. At the end, it looked like Helen was softening toward Tesla. How would you describe her feelings for Tesla, especially after what happened to him in that episode?
AT: It's again, you know, it's this 100+ year old friendship. So there's such a history there that, I mean—it's the same with friends that we've had for a long time. It's just that, when you know so much about them, there's a level of comfort there. Inasmuch as he drives her crazy, she absolutely adores him. And so the softening is sadness really, that this incredible pain-in-the-ass guy that had this crazy gift is suddenly forced to face his own mortality and his own normalcy, if you will, and I think that there's a real sadness for her. It's like, wow, I knew I had to deal with the thorn in my side, and now he's not gonna be one at all. And it's also that one of the Five has gone down again—although at the end, of course, we find out that he has other powers which could be quite fun to play with. But I think that there's a massive amount of—she absolutely adores him and loves him; he just drives her nuts. You know, that crazy guy from college that everyone still knows, but he's like—ugh, that crazy guy from college. [Laughs]
RT: And we'll see more of Tesla this season and next season?
AT: Oh, definitely. Definitely. Jonathan's a huge part of the family, so we want to bring him back as often as possible. He's such a wonderful actor, and the character—he's such a great antagonist. So, definitely.
Photo Credit: Syfy
This Post Contains Multiple Pages: 1
2