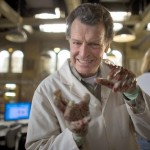 I'm a big Fringe fan, but keeping track of its first season has proved arduous, thanks to the '08 Christmas hiatus and American Idol preempting it for the last two months. Well, it returns Tuesday at 9pm with the first of six fresh episodes that will tie a bow on season one. The show hasn't hit me the same way The X Files did back in the nineties, but I like the direction it's heading.
For me, the series lives and breathes through one character: Dr. Walter Bishop, played by John Noble. The former loony bin resident loves his work, which involves all types of weird scientific experimentation and man-made creepy-crawlies. He also appears to be behind the origin of "The Pattern," the cryptic group responsible for a slew of bizarre deaths and even more bizarre  phenomenon. Basically, Walter is the show.
Let's face it; the guy is a strange bird. His voice is slightly disturbing, in an instructional video kind of way. He has a crazed stare, befitting of a man who's spent 17 years in an insane asylum. There's also his unhealthy fascination with poking around inside people's brains. However, the oddity that intrigues me most is his unusual appetite.
I'm not certain if his habitual desires for particular sustenance carries a deeper meaning or is simply a character trait. With a show like Fringe, you never know.  What I do know is Walter Bishop's cravings are varied. Here are some of his greatest hits:
Butterscotch pudding – It's not his favorite.
Root beer – A cool refreshing beverage. A&W is my favorite.
Blue cotton candy - Not pink or green, but blue.
Gum or mints - Fresh breath is vital when performing autopsies.
Onion soup – Not for me, but to each his own.
Cheesesteak - I'm a Philly guy, so I think you know.
Fruit cocktail - Apparently, Atlantic City serves a mean one.
Coffee cake - Drake's, baby!
Coffee yogurt - I didn't even know such a thing existed.
Rice - Not to eat, but for use in an experiment.
Whole milk straight from the cow - He keeps a moo-moo in his laboratory. I'm not sure why.
There's no rhyme or reason to Walter's tastes. I'm eager to see what the future has in store for his salivary glands. I'm predicting a hot dog will catch his fancy. I like mine with mustard and onions, but that's me. Walter might be a relish man. Is there anything to all these very specific cravings? Add it to the list of mysteries Fringe has yet to solve.
Photo Credit: FOX