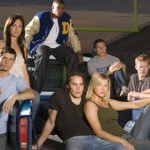 Sebastian's Guest-clacking about Friday Night Lights again, after sharing his opinion about the departure of CSI's Gil Grissom….
Things are looking up all around on and for Friday Night Lights. It seems there are some real hardcore fans over at NBC since EW's Michael Ausiello has picked up some rumors that TPTB are trying to negotiate a deal with DirecTV, and not just for another season. They are talking about a renewal for two more. You heard that right. Two.
While it seems some people consider this a bad idea (and got their couple of bucks feedback from avid fans of the show for that one), I found this logical. See, I understand the people at NBC love this show. They think a drama about one of America's favorite sports, the Texan back country, teenage angst and the idea behind the American way of life — that you can get anywhere if you just try hard enough — and of course family values, is worth producing. Frankly, I find it appalling that you can actually comment on that in asking for a cancellation.
This is the display of a network which actually believes in one of their original shows without getting nuts thrown their way (Jericho, anyone?) and some people ask them to put a lid on it because it has all been oh-so-perfect for us to cower in a corner, suck on our collective thumbs and hold our seasons one to three DVDs so tight that none of the goodness can escape. This is as if you'd called for a cancellation of Buffy when it changed channels just because there was the possibility of things going wrong — and look how good those later seasons turned out.
I for one believe in this show and I found the decision to ask for a two year renewal to be logical because it will help to achieve just the opposite of what is feared here. Because of the run on DirecTV, some of us (including me) know how this season will end. It's hard not to talk about this without too many spoilers, but let's just look at the facts. Six and Smash left the show already. For almost all of the other characters, this is the final year of high school. The only people who will stay in Dillon after the end of this season will be Coach Taylor and his wife, their daughter and J.D. McCoy and his parents, as well as Buddy Garrity and maybe Saracen's mom and his grandmother. That's not really something to work with on another season.
So what's going to happen is the introduction of a hell of a lot new actors AND a lot of new storylines that most likely will need more than a crammed thirteen episode run. So two more seasons are needed to keep doing a quality product and to have the option NOT to ruin this show by just giving it another one year stint. This is the reason why JMS asked for five years on Babylon 5 and why Cuse/Lindelof are so happy about their planning safety on Lost. Also, it's most likely giving the current showrunners enough reason to keep working with enough effort on the show to keep it going strong and with good writers. I know this show has always been on the brink of cancellation and the Landry/Tyra murder storyline, if it was a desperate attempt to gain ratings, shows just what might go wrong if the show gets just another season.
So let's keep our fingers crossed and hope that this deal will go through. You can order your season three DVDs on Amazon now, the higher the sales the more likely a renewal will be. This is worth more than a bag of nuts, trust me.
Photo Credit: NBC