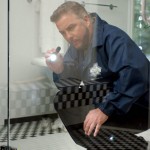 or: how the creators of Crime Scene Investigation managed to mend a sinking ship.
Sebastian's back Guest-clacking for us again, taking a break from his Friday Night Lights commentaries.
Quick flashback: two years ago, Jorja Fox left the show due to her inability to reach a settlement in her contract negotiations. Everybody expected her to die under that car wreck of the miniature killer. Then, seven months later, in April of 2008, Gary Dourdan got busted in Palm Springs for drug possession. On top of that, William Petersen only appeared in a reduced amount of episodes. Then the news came that he would leave the show altogether in 2009, after about half of the ninth season. His replacement: Laurence Fishburne. "Morpheus" of all people.
Which pill would you have taken at that moment? Would you have given up and accepted your fate? Or did you believe?
To be honest, I was wary of Fishburne when I first saw him on the show. The "changing of the guards" in the multi-episode arc of how Grissom left the show and Fishburne's alter-ego, Dr. Raymond Langston, joined the LV CSI team didn't convince me. Was this best choice? Wasn't it an even greater pity that Michael Keppler had to die instead of bringing him on as a new CSI?
Langston seemed weak. He seemed uninteresting. Catherine Willows as new lead CSI just bored me. And Hodges and his novelty shifted more and more into the background. I didn't like these episodes. They seemed bland, not worth my attention. I kept watching out of habit.
But last week was the turning point for me. It was a Nick Stokes-centric episode and the formula wasn't new. Flashbacks were used with the usual excellent CGIs – quick sun ups and downs. In-position shifts. Video morphing. All nicely done, I liked it. What made it gripping was the story. Of course it was the run-of-the-mill interwoven story of multiple murders with the final conclusion delivered in the third act. What made it good was George Eads, and I thank the creators and showrunners that they kept a hold on him when he had the same negotiation issues Jorja Fox had after Season Seven.
At the end of the episode, Nick Stokes felt guilty. He cried, and with that showed Fishbourne's character what it does mean to be a CSI — again, nothing new to show the newbie how it feels to be a CSI — but yet again unique in the way they did it. What made it gripping was the lack of words, the understanding between two men who are both old enough to understand life and yet can't avoid having their demons. It gave me perspective on my own life. It made CSI human again and it made me feel for the characters again, even more than when Grissom finally met Sidle in the jungle. The little nuances during the show, with Phillips' (Dr. Robbins' assistant from the morgue) donation towards Warrick's son's college fund, Grissom's call on Stoke's answering machine, and the birthday cake at the beginning of the show, CSI made me feel attached again. It made me reconnect more than for a long time and reminded me why CSI is the only of the three incarnations I'm still watching.
Compared to the two sequels, the original show is more intense, it connects more with the viewer. It doesn't go over the top when it comes to the criminology technologies, it doesn't have beauty queens as actors and all that is really polished is the CGI-work and not the faces of the actors. What they say has meaning, what they do has value. None of them needs to have a one-line before the opening credits and the shades are ON and they STAY ON.
Last night's episode of CSI marks number 199. The bicentennial episode will air April 2nd and as it seems this show might just go on for another hundred. I for one will stick with it, because it makes me feel connected, and it reinvents itself without changing completely. Judging from the ratings, with reruns blowing the competition out of the water, I guess I'm not the only one who thinks CSI is a machine that will keep on going.
Photo Credit: CBS